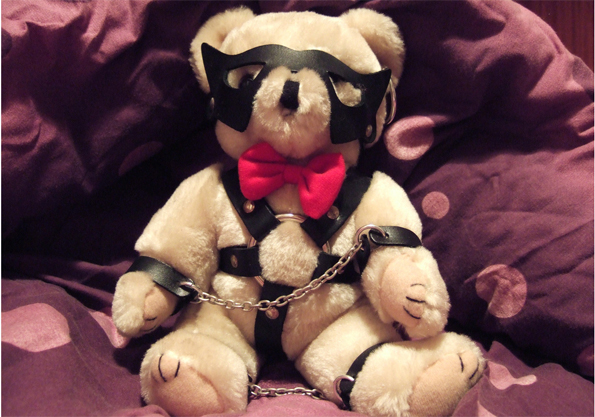 *** BUMP - I first wrote this blog post a few years ago. The Fifty Shades movie is being released TODAY so there may be a few of you out there wondering where you can buy some accessories to spice up your love life. Read on... ***
If you're getting caught up in the worldwide "mom porn" phenomenon that is known as "Fifty Shades of Grey," you might be on the lookout for some of the bits and bobs mentioned in the books and the new movie - specifically the toys and accessories. There are a number of Canadian online stores where you can discretely purchase such items, get them shipped to your door, and your neighbours will be none the wiser as to what you have ordered.
You may have seen a few of these companies on Bargainmoose in the past, but I will do a little roundup and point out a few items on there that could be of interest to Fifty Shades readers.
Pinkcherry.ca - One of Ana's dreams in Fifty Shades involved Christian and a leather riding crop, if memory serves correctly. There are a few riding crops to choose from on Pink Cherry, with prices starting at only $11.99 here. Shipping is free on a $49 spend, and you can use the various Pink Cherry coupon codes shown here for more discount on prices shown. For example, the current coupon code is GREY25 for a 25% discount!
Sextoyscanada.com - How about a pink luv paddle, for a little light spanking? It costs $34.95, but you can also get a more plain one in black and diamond for only $11.95. A cheaper alternative is also a ping pong paddle, or so I hear! Shipping is free on a $69 spend from this store, plus you can use these Sex Toys Canada coupon codes for a bit of an extra discount.
Stagshop.com - In the Fifty Shades of Grey novels, there were a number of mentions of Ana's Jiggle Balls. At this store, they sell a brand called Luna Beads, which seem to be pretty popular. Prices start at $44.99 here for these kegel balls, but there are less expensive alternatives. Shipping is free on orders of $49 or more from Stagshop. And always check this Stagshop coupon page before you place your order.
More ideas: there are other places to get toys and accessories, and I don't just mean walking in to your local Home Depot to buy a pack of cable ties.
If you're looking for more Fifty Shades ideas, check out places like the accessory sections of lingerie stores. For example, there's a naughty accessories section @ La Senza Canada, with a variety of kinky items to choose from.
You could also check out Lingerie Canada too.  You might find some fun items in there. I spotted these funky eye masks from $9.95, or this kinky whip for $29.95! Don't forget to check the Lingerie Canada coupon codes for an extra discount if ordering there.
And finally, if you're interested in some more fiction on a similar vein, there are a couple more books you might want to read (I'm linking to the digital editions on Kobo, but you might want to price compare to see where to find the best deals).
So, have you read the Fifty Shades of Grey novels? What did you think of them? And are you going to see the movie?
(Image credit: Ulleskelf)