Suzy Shier Canada End Of Season Sale: Up To 75% Off!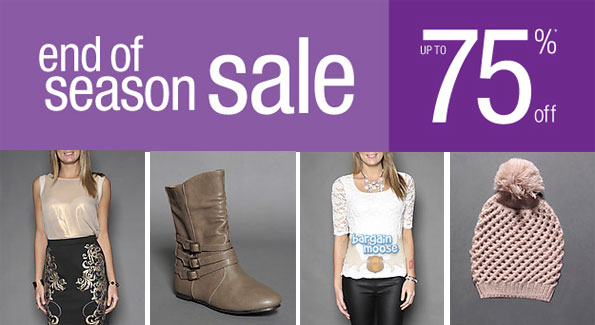 Suzy Shier has launched their much anticipated End Of Season Sale and for a limited time, you can save up to 75% off tops, pants, shoes, handbags, scarves and more!
Although the reason for which Suzy Shier would choose to label their sale as the End of Season Sale is a complete mystery to me since Winter is most certainly in full swing at the moment with no end date in sight yet (sorry sunshine fans), either way, there are actually a number of rock-bottom prices that can be taken advantage of if you hurry:
The coral knit top that I listed above along with included in picture is definitely the one that immediately caught my attention because of its lace detailing and of course, its price. Even better is that it's the kind of top that could look great with just about any bottom, especially a nice pair of skinny jeans or leather pants, similar  the ones the model is seen wearing on the picture. In fact, these black casual pants reduced to $16.95 (reg. $35) or perhaps even the black career pants on sale for $14.95 (reg. $20) could most certainly pair wonderfully with the top.
And while Movember has come and gone, you could get the moustache iphone 5 case in preparation for November 2014, especially since it's on sale for just $2.95 instead of its regular price of 46.
Although shipping fees are a minimum of $8 per order, these are also dependent on the order total and shipping option chosen.
(Expiry: Unknown)