Surfacecollective Coupon Code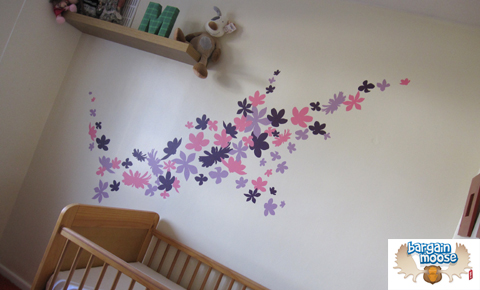 Surfacecollective has kindly re-activated this exclusive Bargainmoose coupon code for a 50% discount on their site!
Click here to use the Surfacecollective coupon code online
Coupon Code: BMOOSE50
Discount: 50% off
Expires: 2nd November 2010
We previously posted a Surfacecollective coupon code here, that's when I got the wall tattoo for my baby's nursery. That's her nursery  in the picture at the top of this page. I choose the pocket full of posies in violet, lilac and pink.
I really love the final design of my Surfacecollective wall tattoo! It's quite girly, but not too pink for my liking.
I did choose quite a complicated design though, and it took me quite a while to put it up on the wall (perhaps about 3 hours). The Surface Collective wall tattoo came on 3 pages, one for each colour in the pattern. I had to cut roughly around each individual leaf, then stick them all to the wall individually in the pattern of my choice. I was quite impatient at first, but then I realised I just needed to take a bit of time and care in sticking the tattoos to the wall. I found it difficult initially, to get the tattoos off the backing and neatly on the wall, but I soon got used to it and was speeding up with every sticker.
There are other Surfacecollective wall tattoos that are a lot less complicated, ones that only have one piece to adhere to the wall. But they wouldn't be as much fun, would they?!
We live in a rental, so we're not really allowed to decorate rooms without permission, which is why these wall tattoos come in really handy. You can add some personalisation to your rooms, without causing any permanent issues - the stickers can be peeled off when we leave.