SurfaceCollective.com Coupon Code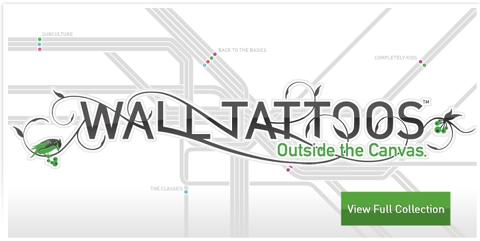 The excellent people over at SurfaceCollective.com have sent me a whopper of a coupon code - it's for a 50% discount on their site!
Click here to use the SurfaceCollective.com coupon code online
Coupon Code: BMOOSE50
Discount: 50% off
Expires: 31st August 2010
The SurfaceCollective.com is a Canadian company, based out of Vancouver. They sell 2 things right now - wall tattoos and laptop tattoos. They're basically vinyl stickers that you can put anywhere... on your walls or to decorate your laptop. I only found their site recently, and I was actually really impressed by the layout, the ease of use, and the design of it.
I think they're a very good idea if you want to brighten up a room but either don't want to be bothered with actually decorating it, or maybe if you have a rental property and are not permitted to do anything like that.
I was browsing through to see some designs that might be appropriate in my little baby girl's room, and I've chosen this pocket full of posies wall tattoo ($59 or $29.50 with coupon code). It's pinkish, a bit girly, so I think it will suit well. There are some other great ones for kids rooms too, like this Yes, Mr Giraffe ($59 or $29.50 with coupon code)or this Panda playground ($89 or $44.50 with coupon code).
As for the laptop tattoos, I might be tempted to buy one of these too. I really like the style of a lot of them, such as the Lost Lenore ($19 or $9.50 with code) or the Lost At Sea (same price).
Shipping is extra, but with the 50% coupon code, things don't total up too badly.