Super Teeny Bikini Deals @ Roxy.com & Extra 20% Off!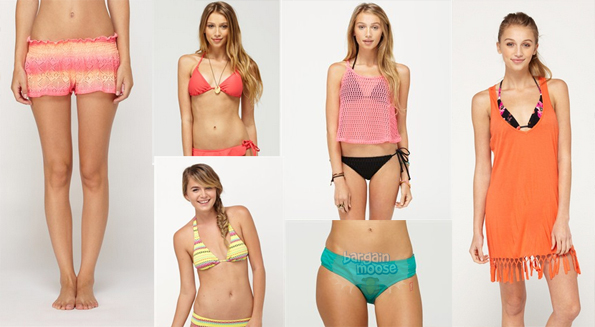 This summer, I am heading to sunny Spain for the first vacation that my family and I have had in three years! And I've also discovered that the bikinis that I have lurking in the back of my underwear drawer are sadly lacking in quality after all the disuse. I spotted some excellent prices on teeny bikinis in the sale section at Roxy.com, so thought I'd share the deals, in case you are also preparing to bare more skin this coming summer season. Plus, I found a bonus 20% coupon code for anything on site!
Click here to shop the teeny bikinis @ Roxy.com now
Coupon Code: SALE20
Discount: Extra 20% off everything
Expires: 26th May 2014
Now, even though Roxy.com is a US based store, every single order from Roxy.com has free shipping to Canada. But the help section isn't very clear if they cover duties and fees, so if you plan on making an order, perhaps order each item individually to decrease the risk of being hit with any extra unexpected charges at your door.
What about returns, I hear you ask? Roxy has a 365 day return policy (fab) and you can also return the items in-store. So, if any of these bikinis are just TOO teeny, you can just take them back!
Let me show you some examples of the kind of deals I am seeing at Roxy.com:
The Roxy Surf Essentials Bikini which I have pictured at the top left of this post is down from $29.50 to only $11.80, that's a 60% reduction. Then, the 20% coupon code brings it to only $9.44. I like the "pop orange" colour in this one, though that would probably cause quite a clash with my pale grey / pure white skin. Superb price.
I'd pair the above bikini top with these Boho Bliss Surfer Tie Side Bikini Bottoms which are $18… or $14.40 with the coupon code. So, for the pair, that'd be a total of $23.84 for the full bikini set.
I find the likes of these Sun Runner Coverups very handy for throwing on after jumping out of the pool or after a swim in the sea. It's priced at $19, or $15.20 after the Roxy coupon code is applied. This piece is only in the "pop orange" colour too, so it might not be to everyone's liking – but I like it!
There are also shorts in the Roxy sale section. I quite like these White Wash Boardshorts which are only $17.60 with the promo code. They'd go well with the bikini above too!
(Expiry: while stocks last)