StyleExchange: Retail Year End Sale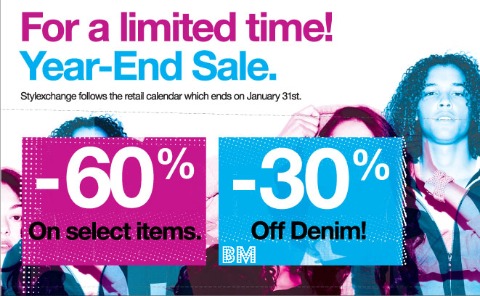 Style Exchange follows the retail year and thsu their year end is January 31, 2011. They are currently offering 60% off select items and 30% off denim. They also offer free shipping across Canada on orders of $75+.
StyleExchange is pretty new on my radar so I know very little about them. They seem to be a clothing boutique of sorts, sporting familiar brands like Muss Sixty, Diesel and Lucky Seven. They also have brands I haven't heard of before like Lady Dutch, Fluo, and Karv.
Some pretty good deals on the whole if you are looking for brand name clothing. Check out this Bench invest sweater, originally $95 now $38.