SALE! 20% Off (If Spend $75+) On Sale Items @ Roxy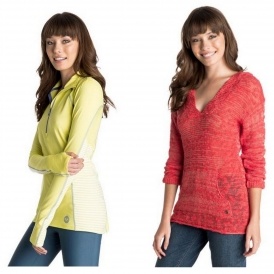 Are there certain stores that you just want to sit and pore over their website, to find the best deals when you discover they are having a sale? Roxy is one of those stores for me. I love the entire Roxy line, I think it is a very well chosen line of clothing and accessories.

When you spend $75 (current sale price) or more on sale styles only at Roxy you will receive an additional 20% off and free shipping with code MAYSAVE. Please note the details of this promo very carefully, as you will only receive 20% off if you have placed over $75 of sale items in your cart at time of checkout. (To reach the min. $75 purchase required, the sale price not including the 20% discount, is what is counted toward that minimum.) Roxy offers free shipping over $39, and duty free prices.

I have been looking for a lightweight pullover that I can use for a jacket, and I wanted a shade that doesn't really show up as a bright flower shade that attracts wasps (crazy year for them!)I spotted a lemon yellow Twilight Pullover Top on sale for $45 (down from $74) and with the code MAYSAVE it brings it down to only $36. Great price on a unique looking top that can double as a light jacket. Also available in black and magenta purple.
I also love the look of this Warm Heart Hooded Poncho Sweater, there are six different colours, and the regular price on this was $63. The sale price is $38. This means with the 20% discount if you spend over $75, you are only paying $30 for this lightweight sweater.

I always get 'pulled over' into the accessories. It's like I have no control over my mouse. I found the best Lazer Crossbody Bag on sale for $18 after promo code after spending $75 or more. The reg. price was $38. You can see in the picture, it has ample room to store all sorts of items for a night out. You can buy four different shades!
You have to look at these canvas Hermosa Shoes! There are six different shades/styles to pick from, and they're only $22 down from the original price of $46 after the coupon code that you can use as long as you have over $75 of products in your cart. Roxy shoes for $22 are an insane price. You will want to stock up, because theses shoes are so comfortable. We find them to be an exceptionally durable shoe, as well.
To partake in this offer, you will need to spend over $75 of sale items, to receive the 20% off. Shipping is free on orders of $39 or more, otherwise will be $6.99.
(Deal expiry: May 17)