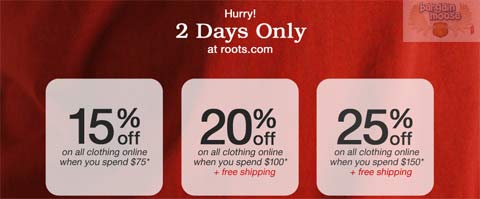 For 2 days only (Wednesday and Thursday the 29th and 30th June 2011), there's a sale happening at Roots Canada.
Here is the breakdown of the discounts on offer:
1.       Spend $75, get 15% off
2.       Spend $100 get 20% off & free shipping
3.       Spend $150, get 25% off & free shipping
You don't need a discount coupon code, you will be able to add items to your shopping cart and see the discount at checkout. Roots is expensive, so it's great when they offer discounts like this. It's a shame that the sale is only on clothing though, and not on their gorgeous leather products. They do have a cute Canada collection for Canada day. I'm loving this womens Canada full zip hoody for $78. It comes in black and grey too, but the red would be a must have! These cut off shorts are cute for $40, but that's quite a bit of money for so little material! The Canada daypack for $58 looks handy too.