Quiksilver: Men's Elion 3-in-1 Jacket Was $250 | Now $120 & Free Shipping (EXPIRED)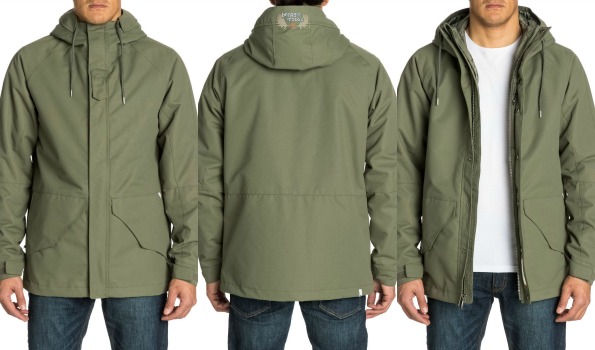 I think I just found the perfect all-season coat over at Quicksilver.  This 3-in-1 jacket will take up a third of the space in my closet.  Regularly $250, it is on sale for $200.99.  Add the promo code WINTER40 and the price drops 40% more to $120.59!
This is a very nice jacket made by Elion that can transform into a snow jacket, rain jacket or a lightweight shell.  I'm thinking this would be a great jacket for hiking here on the West Coast.  I could shed a layer if I was getting too warm or use the rain jacket with hood part if I ran into some rain.  Conversely, if I were heading back east right now, I'd be using all three parts and then some to keep warm.
You get the choice of either "Dusty Olive or "Phantom Black" colours.  I see right now the phantom style only has small and medium left in stock.  The olive style has all sizes from small to XXL still in stock so take that into account when you're picking a style.
This is the perfect time of year to find deals on winter clothing.  Most places are trying to move their winter styles out for the spring styles.  This only benefits us, the consumers, that have been hanging in there looking for a good deal.  The sale at Quicksilver is not only for winter gear or clothing but has a nice mix of spring/summer too.
Make sure to take a look at their other items that are on sale.  They have items like:  beanies, skate shorts, T-shirts, belts, wallets, backpacks, just to name a few. You might also want to check the kids section to see what other hot deals Quiksilver has going on.
To go along with your jacket, why not get this Feel the Heat beanie as well. It is originally $22, on sale for $15.99 and is now only $9.59.
Shipping is free and delivered by Purolator. Because they ship from the U.S., you may encounter duties or fees, but these are all calculated for you right at checkout so you know what you are paying before you get that knock on your door.
(Expiry:  12th January 2015)