Puma Canada: Extra 30% Off Everything, Including Sale Items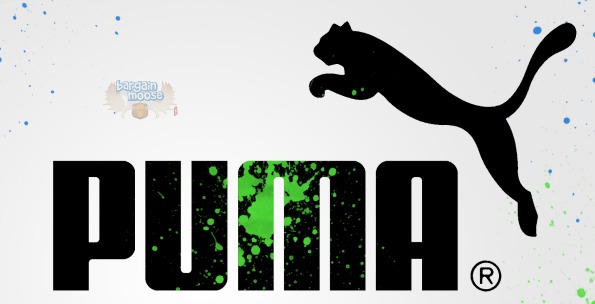 Puma Canada is offering 30% off everything this Labour Day weekend, including their sale section.
No coupon code is needed; the extra 30% off will be automatically removed in your account.
These Disc Chrome women's sneakers are pretty cool. I have a pair of hockey skates that use the same mechanism for tightening instead of laces. Essentially, you twist the dial and each click provides even tightening of thin metal wires. It provides uniform tightness for better support and superior comfort. The disk also has a quick release so there is no time spent unlacing. When I wear my skates at the rink, I get many jealous stares. However, this is the first time I have ever seen the mechanism in a pair of shoes. I highly recommend it. Originally $137.50, the shoes are on sale for $69. Add them to your cart and they come down to $48.30.
I need a new pair of sneakers, as my current ones are pros at giving me blisters. I am really tempted to buy these as I love (bordering on worship) that mechanism. These shoes come in pink or blue.
This Tropical Print Hooded Windbreaker was $125 but is on sale for $75. After coupon code, it is discounted to $52.50. The jacket is both water and wind resistant to keep you warm and dry while out in the elements.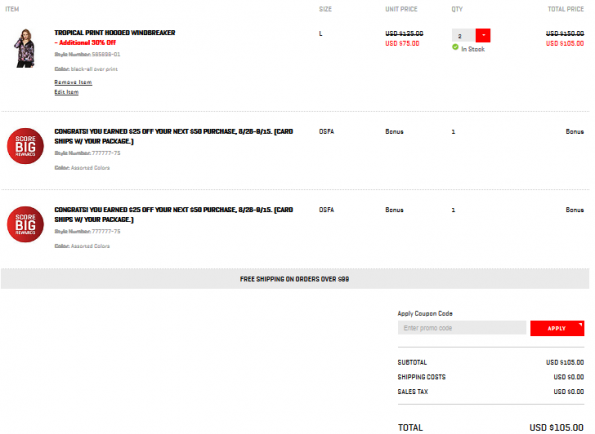 You will pay sales tax on your order once you fill out your shipping address.
If you spend over $50, then you will also receive a coupon code for $25 off your next $50 purchase through the 15th of September 2014. You can read all the details of this promotion here. You will receive one $25 off $50 coupon for every $50 that you spend. Spend $100 and you will receive two of these coupon codes, as you can see from my demo cart above.
The sale section is full of deals for on clothing, shoes, and accessories like these. When you combine an extra 30% off with the bonus free coupons and then meet the free shipping minimum, you are in for one great deal.
While Puma does ship from the U.S. and all prices are in USD, you will not incur duties as Puma absorbs them in the costs. Receive free shipping on orders of $100 USD, or pay $12.95 for orders below that. The US dollar to Canadian dollar exchange rate is approximately $1 CAN = $0.919 US currently.
(Expiry: 1st September 2014)