Pinkcherry Ad Code: 20% Extra Discount!! (NSFW)
Here's another handy Pinkcherry ad code, for use at the Canadian online adult toy store.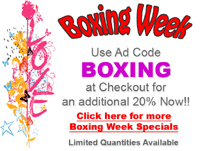 [blogcoupon name=" Pink Cherry Canada" code="BOXING" url=" pinkcherry.ca" discount="20% off" expiry="4th January 2010"]
Shipping is free on a $79 spend there.
As usual, I have added the NSFW to the top of this post - this is an adult toy site, and there fore not safe for work.