Parasuco Jeans: 55% Off 9Parigi Sweater (+ Extra 20% Off All Sale Items)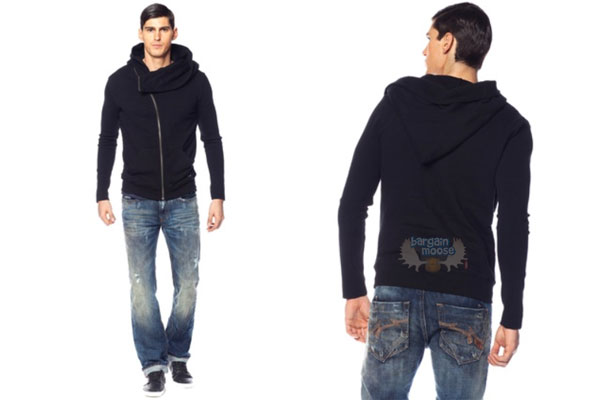 Parasuco Jeans has an awesome promotion going on right now: for a limited time, you can save an additional 20% off all sale items. Among these items, the 9parigi sweater is on sale for just $59.98 (reg. $85) and comes further down $38.98.
My hubby is absolutely obsessed with sweaters (as am I). As soon as it gets slightly cold outside, the first thing he says to me is: "babe, I need 5 sweaters for the coming winter". Granted, five may be slightly exaggerating, but I do hear something of the sort every year. Now with Parasuco's sale, I could totally get him this 9Parigi sweater since it's on sale, store it somewhere safe (away from my two cats as they both have their claws) and bust it out as soon as he tells me the amount of new sweaters he needs. Win-win really and he might even forget that amount he originally wanted!
Even better is that the 9Parigi sweater is 100% cotton as I hate buying any piece of apparel with polyester as the primary material. Cotton just feels so much nicer on the skin and clothes made from 100% cotton, or close to it, just last that much longer than polyester-based clothing. I also really like that this sweater has a modern feel to it. I can't even begin to tell you how many of the regular sweaters my hubby has -- and by regular, I mean the typical ones with a zippered collar or no zipper at all. The 9Parigi sweater features a cowl-like collar with an asymmetrical zipper. It also comes in a black colour (like on the picture) or a light grey.
For women, I also spotted a very similar sweater to this one as well: the 8Parig2. The only difference is that it's in a much shorter style and on top of the black and light grey, it also comes in a pink colour. It also comes down to the same price of $38.98 and is 100% cotton as well. Another key difference and one to be expected as it's for women is that the fit is slim. I also spotted the 8Fionab skinny jeans, which get further reduced to just $55.23, down from its sale price of $84.98 (reg. $120). They're medium-rise jeans with 98% cotton and are stretchy.
Shipping is free on orders over $150, otherwise a $7.50 shipping fee will apply.
(Expiry: Unknown)