NoZone Canada: Save Over 50% On Sun Suits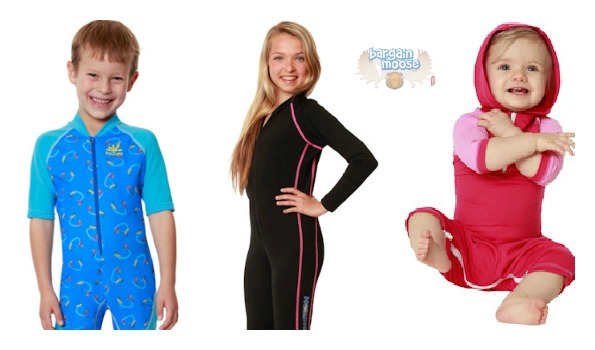 You might be thinking that it is minus whatever out there, so why would I want to think about sun coverage? But, after blogging about the deal on one of the sun suits at Mountain Equipment Co-op, I decided to research into it more. I found a great assortment of these suits, that I've never seen in stores, with some of them now at over 50% off. I didn't realize you could get them for older kids, so this makes me uber excited. I'm preparing myself for the hot Spring ahead and having these in the drawer, ready for the first pool date. These are also great for trips away as the hot Caribbean sun is brutal on the average Canadian kid's skin.
I love so many things about NoZone suits, including that they are made in Canada! They are certified as having a UPF of 50+, which means it blocks 98% of ultra-violet rays. They have such great coverage that you could literally cover your child's entire body, they are lightweight and dry so quickly that your child is never hot or cold wearing them, and they are made to be indestructible. I can definitely attest to the durability of them, having had three boys wear them at least a summer each, sometimes two, for the entire summer. My suit looks exactly like the day I bought it.
I have a hard time with sunscreen because the harmful chemicals in it freak me out. I rarely put it on my children and would much rather cover them in something natural like these suits. The kids clearance section includes:
The Caribbean series, inspired by the colours of the Caribbean with contrast shoulder stitching. In sizes 4 - 10, it is on sale for $34, regularly $49. I love the Surf Blue.
The Active Collection is a little more simple, with kid-friendly colours in sizes 10 and 12. Now $27.50, regularly $39.99.
The Baby Sun tees and pants protect your infant, who in fact can't wear sunscreen (before six months). In baby blue or pink, your infant will be cute and covered! Shirts for $18, pants for $12.
I was gladly surprised to see that NoZone also carried adult clothing. The bathing suits are totally gorgeous, providing you with the same great coverage as your kids. I love the Navy/Pink combo and for only $44 for the entire suit, what a great deal!
The Quantum Outdoortec long-sleeved shirt is an awesome deal at only $19, regularly $68. This shirt is not just great for swimming, but also for other outdoor activities where you want to be covered, but also feel like you can breathe.
Shipping is only $5.95.
Expiry: Unknown