Mexx: Shirt Club - Buy 5 Get the 6th Free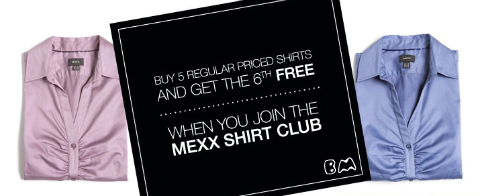 If business formal or casual is your daily work week attire, check out the Mexx Shirt Club. If you become a member of the Mexx Shirt Club, you can get a nice freebie every time you buy 5 shirts. After purchasing 5 regular priced shirts, your 6th shirt will be free.
Men and women can sign up, as they have a very nice collection of shirts for both genders. Signing up for the shirt club is free, and the offer never seems to expire. That means you could buy 1 shirt a year for 5 years, and then get your free shirt.