Lavish & Lime Canada Coupon: 30% Off 3-Pack Envirosax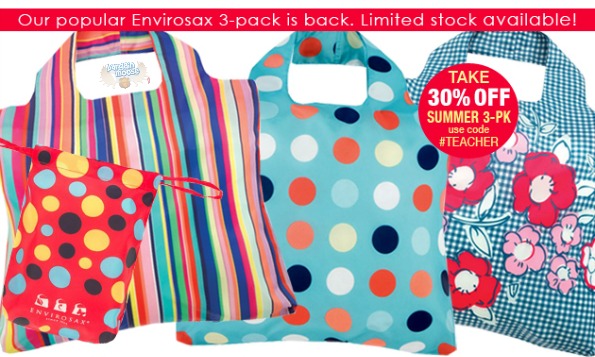 Envirosax are pretty popular for their versatility and the number of plastic bags they can replace in their lifetime. Lavish & Lime Canada is offering 30% off their special edition summer polka dot three pack of Envirosax Shopping Bags. Regularly priced at $29.95, you will get the three pack for just $20.96.
Click here for the special summer Envirosax 3-Pack @ Lavishandlime.com now
Coupon Code: #TEACHER
Discount: 30% Off
Expiry: 18th June 2013
Features:
reinforced seams
made of polyester
roll up into a compact package
highly durable
eco-friendly inks and dyes
The pack contains three Envirosax bags in a matching pouch which will help you keep your bags organized and there is less of a chance  that you will lose them. Limited quantities are available.
Lavish and Lime shipping depends on where you live and how much you spend.
We store all our Lavish & Lime coupon codes in the forum.