La Senza: Bras Starting @ $7.99 & Panties @ $3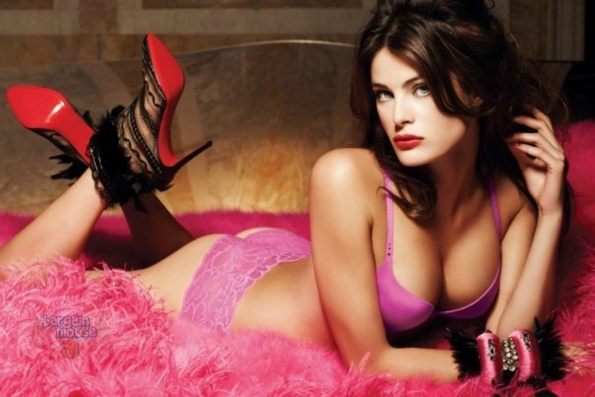 La Senza is having a great clearance section with bras starting at $7.99 and panties for only $3 per pair. That gives you an entire lingerie set for just $11.
First of all, let us look at bras. La Senza offers bras spanning sizes 32A through 38DD. While this does not cover all chest sizes, but it is a good start. I remember when they only used to go up to a 36D.
The Remix Cotton Push Up Bra is on sale from $20.50 down to $7.99. The bra comes in edgy stripe (black and white), ultra teal, and tropical punch. This is a simple bra with a plunging neckline (great under low necklines) and added padding for a little extra oomph. Cotton bras are the best for summer as they are cool and breathable. They reduce skin rash from sweat building up under the wires.
For a slightly different style, purchase the Remix Cotton Lightly Lined Balconnet Bra is available in Sass Attack Pink or Python wash. This has a slightly different shape and only light lining. Originally $20.50, the bra is on sale for $7.99.
This Remix Lightly Lined Balconnet Bra is made of microfiber that is smooth under your shirts. Without padding, this bra is a good everyday bra for work or for lounging around the house. Originally $20.50, this bra is on sale for $7.99.
there are plenty of panties on sale for just $3 each. The Remix Cotton Boyshort Panty is on sale from $9.50 and is on sale for $3. Cotton underwear are important for two reasons. First, cotton is light and breathable for summer. it allows your body to breath and prevents heat rashes. Second, if you eat a lot of starch and yeast products (bread, donuts) as well as sugar (food for yeast), then you might be prone to yeast infections. Yeast infections thrive in damp environments so cotton underwear are recommended: they allows that area to breath.
These Remix Cotton Brazilian Panty are a cheeky cut - perfect for hot summer days. They are also on sale from $9.50 down to $3. There are pages of sale panties that you can purchase for just $3 each. Imagine that, you can pick up 10 pairs for just $30.
The only downside of this deal is shipping. Shipping costs $9 and we have an exclusive coupon code for free shipping on orders of $75 or more.
(Expiry: Unknown)