La Senza: 7 Panties For $25.50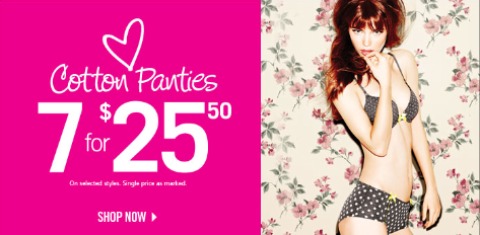 Time to stock up on panties at La Senza. Save up to $5.50 per pair!
Seamless thongs are 10 for $20 (reg. $7.50 each). Save $5.50 per pair! Available in Noble Grey only in sizes small, medium and large.
Cotton panties are 7 for $25.50 (reg. $7.50 each). You'll save $3.86 per pair! You can mix and match from 49 different styles. Definitely a style for everyone!
Luxe panties are 3 for $25 (reg. $12 each). You'll save $3 per pair. There are 66 styles to choose from! You can find fancy panties like these Ooh La Lace by La Senza Lace Up Cheeky , Lace Cheeky or these Mesh Cheeky .
Shipping from La Senza is $9.