La Senza: $10 off 1 Bra, $25 off 2 Bras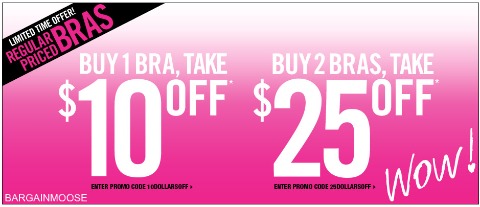 I had posted HERE about the $10 off an regular priced bra on La Senza. Recently they just upped the anti... buy any two regular priced bras on La Senza and get $25 off! You will need a couple coupon codes of course!
$10 off 1 reg. bra
Coupon Code: 10DOLLARSOFF
$25 off 2 reg. bras
Coupon Code: 25DOLLARSOFF
It can be a sweet sweet deal depending on what bras you pick. This mesh plunge bra is very pretty, and if you get two of them you will only pay $8 per bra, or $16.00 for both.
If you want to pad out your cart you can also get these Flirty Panties 5 for $35.