Kathy and Kim Originals: 20% Off Coupon Code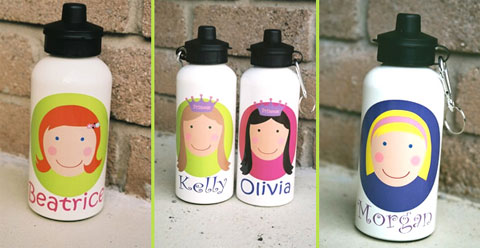 Kathy & Kim Originals is your go to place to personalize your water bottle, travel mug, and various other items that need to say who they belong to! Great for kids who have a habit of loosing things, or to dull down the "it's mine" banter heard quite often in houses of 2 or more. This week Kathy & Kim Originals is offering 20% off your entire order.
Discount: 20% off
Coupon Code: BRRR!
Expires: 21st, January 2011
As a side note, because once in a while a blogger needs to rant: my usual 1 hour bus ride to university took a horrible two whole  hours this morning, making me impossibly late for my Analytical Reasoning class, so late there was no point in attending the last few minutes of class. I don't drink coffee, but in such times I find a nice hot cup of cocoa comforting. Which brings me to my point: I need a travel mug. If I got a personalized travel mug mine would say "So Tired" underneath that pretty face.
Edit: Don't forget the ! in the code... I did! :-D, now updated.