Joe Fresh Canada: 0-6mo Boys Beach Print Bodysuit - Now $2.76 (+ Extra 30% Off All Final Sale Items!)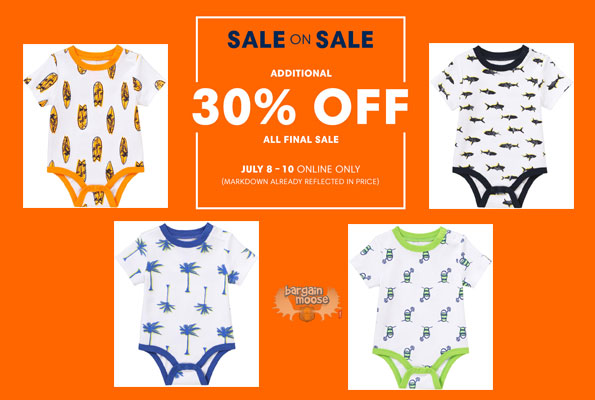 Looking to dress your little man all the while indulging your bargain-hunting side? Then check out the beach print bodysuit as Joe Fresh has just tacked on an extra 30% off its sale price during the "sale on sale" event. It's now down to just $2.76, from $6 and is available in the following patterns: green slurpees, blue palm trees, navy fish and orange surfboards.
I have a little girl but if I had a little boy, then I would definitely get these in each colour and in all of the available sizes. All of the patterns are available in either 0-3 months and 3-6 month sizes but, hurry because they are definitely selling out fast.
I recently had a debate with my hubby as to whether yellow was an appropriate colour to wear for my little girl as it's neutral to me but I must admit that I easily changed my stance when the Tim Hortons cashier referred to her as if she were a boy. Though it might be in a navy colour, the baby girls' keyhole bodysuit surely won't cause confusion as it features a cute pink bow at the collar. Just like the boys' ones on the picture above, it's just $2.76, down from an original price of $2.76.
Luckily, baby clothes on sale aren't the only ones to have received an additional discount as you can also find some pretty great picks in women's and men's fashions as well. I have been meaning to hit the gym for some time now and could definitely see myself exercising in the active floral tee. Though I would prefer it in a grey mix, it also comes in white, aqua or dark pink and is just $3.46 (reg. $7).
There are a number of great deals in the men's sale section as well such as this number sweatshirt, which is now just $6.96 instead of its regular price of $29. It comes in either navy or grey mix and features the numbers "06" in big bold font.
With such low prices, the only drawback is that shipping is only free on orders over $50, otherwise an $8 shipping charge will apply. My initial thought is to always to see whether part of the order may be returned in-stores afterwards and if the same thought crossed your mind, then you will be sad to know that all of the final sale merchandise is neither refundable, nor exchangeable.
(Expiry: 10th July 2014)