Jack of All Trades Clothing: 15% off with Exclusive Coupon Code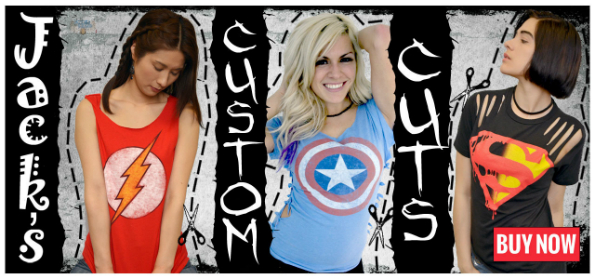 There is a joke in here somewhere but I'm in far too much of a bad mood to make with the funny ha-ha this early in the article. Maybe later ok, dear? In the meantime why don't you go get yourself something nice from Jack of All Trades for 15% off?
 Click here to get 15% off @ JackOfAllTradesClothing.com now
Coupon Code: BMOOSE15OFF
Discount: 15% off
Expiry: 11th November 2013
I love Jack of All Trades. They are mainly superhero shirts but have other stuff too. I like that they aren't your usual superhero shirts. Like you can get a superman t-shirt but it's not just a blue shirt with a Superman logo. It's something like this Quebec Nordiques Superman t-shirt or better yet, a Montreal Canadiens Superman t-shirt. Of course they do have some more traditional stuff but everything is just a little skewed in some way.
If Superman isn't your thing, they have all your favourite superheros. How about you check out their entire Thor line of shirts? I personally like the Loki Boss shirt and Frozen Hammer ones. Don't dig superheros at all? How about we celebrate Christmas with this awesome Jack Skellington shirt? Super cool. They don't only have guy's t-shirts either. They have hoodies, tank tops and girl's shirts too. Not all designs are available on every type of shirt, which is nice. It shows that they aren't just designing a logo and printing it on anything end everything. You can even get some very cool custom cuts as seen in the image above.
To top it all off shipping is $5 anywhere in North America no matter how many shirts you buy! And that, in addition to our 15% off code, helps makes Jack of All Trades Clothing an amazing Gift Idea!
Keep on eye on our Jack of All Trades Coupons for more deals!