Here are some juicy Icejerseys coupon codes for a discount on your online order!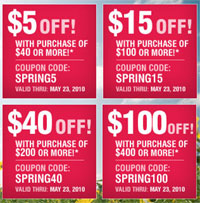 Coupon Code: SPRING5
Discount: $5 off $40
Coupon Code: SPRING15
Discount: $15 off $100
Coupon Code: SPRING40
Discount: $40 off $200
Coupon Code: SPRING100
Discount: $100 off $400
If you are spending $85 or more, then you also get free shipping!
I'm not a sports fan at all... so I don't have much to say about this site. If you are a sports fanatic yourself, then you might be glad of the extra discounts. As far as I am aware, buying the latest team jerseys can be a pretty expensive endeavour!