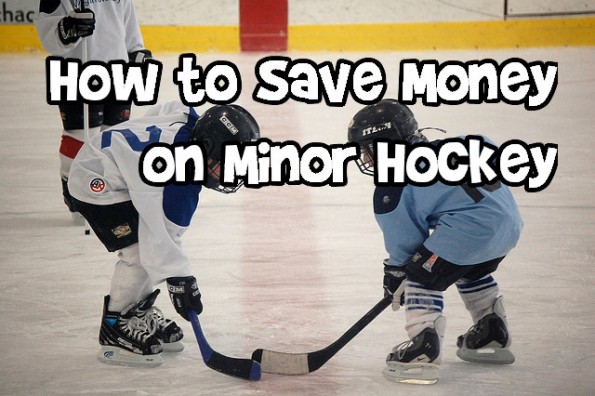 Hockey is our national past-time, played by kids and adults on ponds and ice rinks across the country, but it's extremely expensive to play in a league. From the equipment to the dues and registration fees, the average cost of minor hockey can be $500 to $1,000 a week, especially if you count gas, hotels, food and other costs related to team road trips and tournaments.
"Once you've signed on for the season, you're expected to be there and play, whether you budgeted for it or not, and you wouldn't miss it for anything," Theresa Dostaler, a hockey parent, told The Globe and Mail. She estimated at the time that she would spend at least $5,600 a season for her three kids to play hockey (two boys on rep teams and a three-year-old daughter in tyke).
Not every kid can be Sidney Crosby and most kids don't play with the talent and skill needed to make it even close to the NHL, but no matter what level you kid plays at, and whether it's for fun or for larger major league aspirations, hockey will quickly empty the wallet of any parent – it does not discriminate.
So, with that in mind, we give you ways your kids can still play hockey, while you can save some money along the way.
Buy Equipment Used or Secondhand
The great thing about kids is they grow out of equipment. It's great for parents because that means there's tons of barely-used equipment (last year's model) lying around. Hell, there's even a store with locations across the country and all they sell is second-hand sports equipment. They're called Play It Again Sports and they've got helmets, skates, pads, sticks and goalie equipment that's all been gently used and priced at a discount compared to the new stuff. Other stores across the country like Sports Junkies and Totem Outfitters have also gotten into the action. Though, it's important to use caution with secondhand equipment because certain pieces need to meet the safety standards of the Canadian Standards Association, especially helmets and face shields.
Plus, if you're going for last year's models, the best time to buy is the last week of July or the first two weeks of August and the earlier you go to the store, the more opportunity to take advantage of the greatest selection and deals. Honestly, there's really no point in buying new equipment every year if your kids are under a certain age.
After all, as Philip Mckee of The Ontario Hockey Federation told Money Sense Magazine, "Kids don't need sticks costing more than $75 or skates over $300."
Try a Starter Kit
You can get an early start on savings by purchasing a hockey equipment starter kit for kids who are just entering the sport. The Ontario Hockey Federation has teamed with Bauer and Canadian Tire to offer a Jonathan Toews starter kit called JT19, which includes all the protective equipment you will need in small, medium and large sizes. The kit comes with shoulder pads, shin pads, elbow pads, pants and a hockey bag at prices ranging from $82.99 to $123.99. It's a great way to grab most of the equipment you need in a single shot and comes in small, medium and large sizes.
Lobby to Lower Registration Fees
Registration fees can vary widely depending on where your child plays. According to The Observer, fees range in price from $600 in Petrolia to as high as $2,100 for the Chatham Cyclones. The Sarnia Hockey Association charges a $610 registration, but offers a discounted $535 early-bird fee.
Still expensive fees, especially when you get up to a rep team level where some teams charge the equivalent of college tuition, are driving kids away from minor hockey, according to CBC. Actually, it is possible to find cheaper fees, but the cost of ice time continues to go up, which is the main reason teams are charging more than ever.
Rob Gardner, president of the Greater Toronto Hockey League, told CBC that "in Toronto, an hour of city-owned ice costs $170, up eight per cent from last season. Private ice in St. John's costs $200 an hour and about $270 in Toronto."
But there is hope. You can lobby your hockey association to partner with a government or private organization that helps cover the cost of sports activities In St. John's, its minor hockey leagues partner with a government organization called Recreation Experiences and Leisure (R.E.A.L) to help cover costs and a similar organization – Athletics for Kids – does the same in West Vancouver. Both organizations cover registration, equipment and sometimes travel expenses for kids in need. It's also important that you join a team and a league that holds regular fundraising activities that can help subsidize the cost.
As a league, West Vancouver Minor Hockey uses $2,000 from an annual fundraising lottery to cover their players in need, they subsidize all players ages five to eight and they accept credit card payments so that registration fees don't need to be paid all in one shot. If your league isn't already doing these things make sure they are. You can also lobby corporate sponsors to partner with your league and cover ice time, so that registration fees don't have to be so expensive.
Fundraise
With travel expenses one of the big, rising question marks of any hockey career, it is impossible to know just how much it will cost. The Globe and Mail estimates the figure to be somewhere around $2,200 a year per player. Usually that means at least $1,000 just in gas alone. Every city across Canada with a hockey team feels the pinch that's why it's important to participate in bottle drives and sell advertising on the back of jerseys to help offset costs. Some teams offer deals on tournaments, such as buy one, get one free.
But perhaps the best way to get rid of travel costs is to fundraise – a staple of most minor hockey teams' annual repertoire. There are many ways to do this, including a garage sale, a golf tournament, a car wash, bottle drives and countless others. Tons of advice for putting on these various fundraisers can be found at CanadianHockeyMoms.ca like how to arrange your events so they are either all ages or just for the parents, if you are so inclined.
Grants
In most cases, low income families that are eligible can qualify for a grant to cover their minor hockey costs from $100 to $500 or more. The usual suspects to look into include Canadian Tire's Jumpstart Program, KidSport Canada and Hyundai's Hockey Helpers, RBC's Play Hockey Program, Chevrolet Making Dreams Possible and more. It's as easy as Googling "Minor Hockey Grants" or asking your local hockey association. There are also corporate sponsors such as Tim Horton's and Esso that sponsor hockey camps, coaching clinics and hockey programs for kids across the country.
Shop with Puck Bucks
If you shop for hockey equipment and everyday items at Club Hockey Canada you'll get 20% of the cost of your purchase back in Puck Bucks (one puck buck = one dollar), which can be redeemed directly towards registration fees, tournament fees and ice time. So, for all you shopaholics out there, Hockey Canada invites you to purchase home electronics, kitchenware, tools and garden equipment, along with various items from recognizable brands, and save on your child's hockey expenses.
Photo credit: Mark H. Anbinder