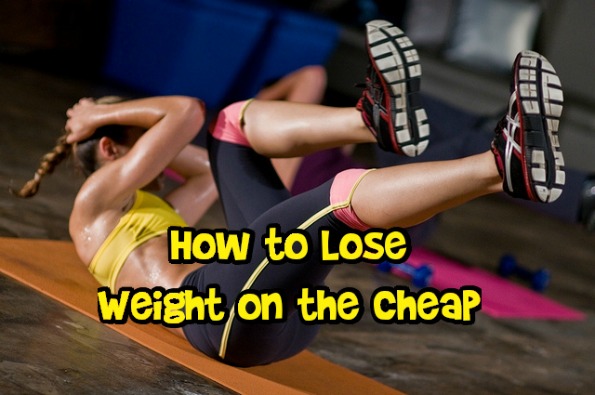 Losing weight and getting in shape is a struggle for many, many people.  According to statistics, in Canada, 61.1% of people are classified as either obese or overweight.  That is a frightening statistic!  Obesity causes a tremendous strain on our healthcare system, and it's only going to get worse if we don't take personal responsibility to take better care of our bodies.  Personally, I have lost 50 pounds over the past year and a half.  Notice that I didn't say 50 pounds in 2 months, I have lost weight in a slow and steady way, and I have learned effective (and healthy) eating habits along the way.  As I have lost weight and gotten into shape, the changes I have made have become a way of life.  They are life-long changes I am committed to.
I'm like you, I don't have thousands of dollars to spend on gym memberships, weight loss pills and other methods companies push to "help" us lose weight.  Below are some pointers on how you, like me, can lose weight and get into shape (on the cheap!).
Get moving
There are lots of ways you can get your body moving, which are inexpensive.  Running and walking are free activities, and there are lots of groups you can join which are free.  Check out Meetup.com to look for walking or running groups.  Mountain Equipment Co-Op offers free running groups too.  Personally, I am a huge proponent of incorporating weight bearing exercises to build muscle, increase your metabolism, and burn fat.  My husband and I were very fortunate, we found a weight set on the side of a country road, which we loaded into our van and now use for our weight routines.  Alternately, check out Kijiji local listings for weights on sale.  Check out Bodybuilding.com to learn about lifting weights safely.
Set a goal
You will have greater success if you set a goal, along with a timeline of completion.  For example, perhaps your wedding is upcoming and you would like lose 20 pounds before that date.  Figure out the number of days you have to complete your goal, and the number of pounds you would like to lose within that time.  Experts say that losing between 0.5-2 pounds per week is a healthy guideline.  When I'm in weight loss mode, I aim for a loss of 1 pound per week.  That way I don't go crazy from deprivation.
Learn about proper nutrition
I'm a huge proponent of the Eat Clean Diet by Tosca Reno.  Check out The Eat Clean Diet for information about this lifestyle, and to learn about the various books and other resources available.  Tosca Reno has a recipe catalogue and forum on her website, which are free.  They are incredibly helpful.
Check out our article on budget meals for a healthy lifestyle for more great ideas on how to eat well on a budget.  Don't forget to check out our coupon forum for coupons of all kinds.  Although a lot of coupons are for processed foods, coupons for whole and minimally processed foods do pop up from time to time.  Keep your eyes open, and check Bargainmoose regularly for updates on the best bargains!
Get support
Getting healthy can be a lonely road, especially if people around you aren't supportive.  I have had to make choices about the people I associate with, as I need to be around supportive people who share my healthy living choices. Thankfully, my husband and family have also become healthier eaters throughout my weight loss journey.  Gone are the donuts and cookies in our house, and in are sweet potatoes and paleo baked goods!  See the information below about going online - there are a ton of resources available online to provide support, guidance and resources.
Go online
As I mentioned earlier, I have lost 50 pounds in the past one and a half years.  I tend to lose between 10-15 pounds at a time, and then I need to take a break.  I recently had great success working with a fitness consultant online.  I hired her twice, each in 10 week time frames.  I lost about 10 pounds each time I worked with her, and I have started to build a great deal of muscle as well.  Google search online fitness or nutrition consultants and you will find a number of different people to work with.  Since they are online, they can be located anywhere in the world.  Mine lives in Ottawa, while I am in London. I firmly believe in learning what you can, then doing it on your own. Whenever I work with a trainer or fitness consultant, I ask a lot of questions, so I don't need to spend thousands of dollars with them holding my hand. I learn what I can and I get out.
Weight Watchers has an online program as well, as do lots of other weight loss programs.  Check out Bargainmoose's coupon section for the best deals with weight loss programs.   A good one that I use (which is free!) is My Fitness Pal.  On this site you can log your food intake, and also calculate your physical activity, and correspondingly, the calories burned as a result. They even have an app with a barcode scanner so entering your information is insanely easy. My biggest lesson in weight loss, and now maintenance of weight loss, has been that I must monitor what I eat.  Studies show that people who track their food have a much greater chance of long term weight loss success.  Interestingly, 2 years ago when I first started making changes to my food intake, I kept track of what I was eating, and I recently started a food log.  Looking back at how I used to eat, I have made HUGE changes!   The vast majority of my calories now come from protein and veggies, 2 years ago it was mostly carbs and fat.
Shop around
If you do decide that joining a gym is the best option, shop around for the best deal. Don't just go to the nearest club and don't be wooed by features you will never use. If you aren't going to ever swim, why spend the extra money on a club with a pool? Also, always negotiate a better deal or get things thrown in. A friend of mine negotiated free daycare and with three kids, that was a huge money saver for her. She was able to work out knowing her kids were safe and having fun. With the fee for daycare being around $4 for two hours for each kid, these charges can really add up. If you aren't sure a gym is for you, take advantage of free trials (E.g. at Curves Canada) to figure out if you like the club and if you will actually commit to going. As well, there are many fitness Groupons or WagJags out there, so take advantage of these and try something new every few months. Many times when you are a loyal customer at a club, when you recommend someone else, you'll get free months or a reduced membership price.
Check out your company's benefits program
Sometimes thinking outside the box is helpful when you are getting healthy.  As an example, going to see a naturopath can be helpful if you are interested in a healthier lifestyle.  Some benefit plans have dietician visits covered as well.   Be sure to utilize the benefits you already have!
Many companies will also have discounts to gyms in your building or nearby so you can work out before, after or during work. Your company may even have its own gym, which you should definitely take advantage of. If you often travel for work, pick a hotel that has a free fitness room, which is usually well-enough equipped for what you need. Your company may also offer a gym membership as an expense-able benefit.
Deciding to be healthier is an individual choice, but for me, it has been a life changing shift.  I can now fit comfortably in an airplane seat, and I can play outside with my kids in the summer without being embarrassed about the way I look.  I feel much more comfortable in my own skin, and I am hopeful that I will be a healthy, happy wife and mother for many years to come.
Photo credit: Calibe Thompson