Styles From $3.99 PLUS Today June 12th Only - Free Ship With Min. $21 Purchase @ Forever 21 Canada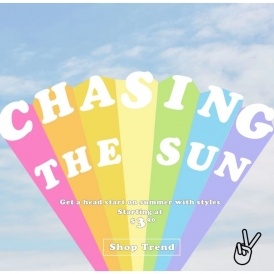 What a clever promotion! With a minimum spend of $21, you will receive free shipping on your order at Forever 21. Normally you need to spend over $50 to receive free shipping. Typically if you spend under $50, shipping starts at $11.95, so this is quite a savings in shipping fees.
Now I just have to decide what to buy! There are a lot of great deals on at Forever 21, with styles starting from only $3.99.
Here is a list of items all under $10! You can get an entire bikini, top and bottoms, for only $13.80! Here's a cute one shoulder tropical crop top for only $9.90. This California crop tank is a classic design that is great for casual wear.
Sunglasses on sale for only $2.99 will look great, and make a fantastic filler item if you are trying to get up to spending just over $21! They had a variety of sunglasses that were on sale.
This will def. be a link you will want to click on - it's a list of accessories that are under $5! Here you will discover jewellery, hair ties, sunglasses, lipstick, and cell phone accessories, too!
Shipping for today, June 11, 2016 only, is free if your order is over $21 (or if after June 11th, will be free on orders of over $50.) Otherwise shipping starts at around $11.95, so today is an especially great deal to get in on with free ship on over a $21 purchase!
(Deal expiry: The free shipping on min. $21 order expires today, June 11. The sale prices expiry date is unknown.)