Free Coupon For SportMart Canada … And Don't Cycle On Sand!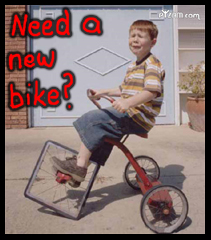 Yo sportsfans! I've found a great discount coupon for Sport Mart Canada!
The free coupon is valid until the 15th of February 2009.
A friend of mine is planning on buying a new bike in the Spring, but this is the kind of handy coupon that would encourage her to purchase now! $10 discount isn't to be sniffed at!
Speaking of bikes… I really enjoy getting out and about on a bike. In my teenage years, I once went on a biking holiday in the Sahara. That was my first mistake – do you know how hard it is to cycle on sand!? Well, I had to try and do something to make it easier to cycle on the sandy shifting dunes, so I attached a ring of small field mice the whole way round the wheels. The combined power of the little mice legs managed to get me to my destination, and we all had a party, the field mice and I.
What these field mice were doing in the desert in the first place, I really don't know.