Fitness Depot Canada: KettleBell Set Only $20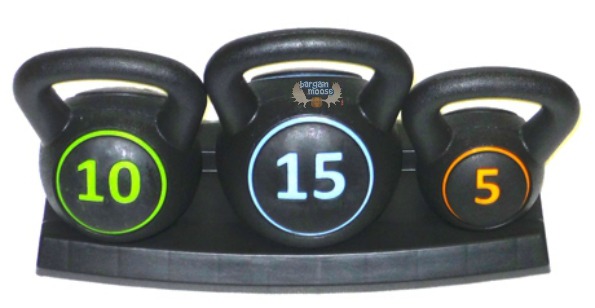 Fitness Depot has a great deal on a kettle bell set, now only $19.99, was $39.88. I price compared this exact set and the best price I could find it for was Costco (which usually has items the cheapest) for $58.99.
The link above will take you to the main page, but you can search for KBCSET30 to find this item.
I have to tell you I love kettle bells and I know quite a few people who do as well. They are a hardcore workout, but easy to use and could be almost all you need for muscle toning and strength. I used them with my boot camp trainer, so I learned all the moves, but there are some great websites out there that could teach you how to use these. There is even a video right on Fitness Depot's site that shows you some standard moves. You can get a whole body workout with just these three weights alone.
You'll get three kettle bells - one 5lb, one 10lb and one 15lb, and while that doesn't sound very heavy, I have to say it is! Personally, I would get two sets of these because you'll need the same size to do squats, holding one in each hand. You could do squats with just one, holding it in front of  you, but since it is such a great deal, why not get two sets and do more?
Shipping depends on your location, but my estimate gave me $32 for this item, I'm assuming because it is heavy. You can pick up in store for free though.
(Expiry: Unknown)