Etsy Canada: Motivational Band-Aid Tattoos Just $10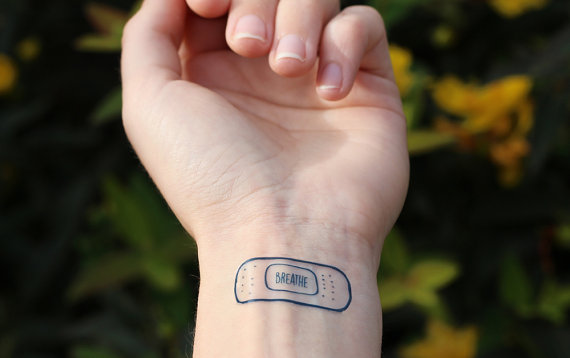 Moosers, do you need some motivation? Check out this fabulous item I found on the trending page on Etsy.ca. For just $9.34 you can score a 15 pack of Band-Aid Motivational Temporary Tattoos. These positive affirmations and motivational quotes are a great thing for your mental health. Shipping to Canada is just $3.51.
These tattoos are totally adorable. For under ten bucks you can have 15 tiny little temporary tattoos that have motivational quotes and positive affirmations. They are styled to look like band-aids (or plasters if you are from the UK like Anna). You can put one on when you are feeling down, or even when you just need a reminder to "Be Strong" during a hard time or "You Can Do It" before a difficult task.
These packs of motivational tattoos are available in coloured or clear. They are both adorable, so pick your poison. Each pack contains tattoos with the following sayings:
Be Strong
Be Brave
Breathe
You Can Do It!
Hold On
Better Every Day
It Will Pass
I Am Enough
Be Kind
Calm
Self Healing
Positive Attitude
Love Yourself
Courage
Think Positive
I have "Be Strong" tattooed across my rib cage on my right side, so I naturally was drawn to these adorable motivational tattoos. I think these are a great way to subtly keep your chin up. Going through a tough break up? Stick the "I Am Enough" tattoo band-aid on your wrist so you can take a peak whenever you need to be reminded. These tattoos will last between 1 and 4 days as long as you don't scrub it off on purpose.
You can get a further discount if you order the 5 pack. It looks like you can get 5 packs of these temporary tattoos for $41, which essentially means you get 1 pack for free. If you are thinking these would be cute little Christmas gifts, then that might be the best way to go. You also will only pay shipping once so you don't have to worry about paying additional shipping and handling charges on each package of tattoos.
Etsy.ca is a marketplace style shopping experience, so different sellers and different items will have different shipping costs. Fortunately this particular item ships worldwide for just $3.51. 
Moosers, would you wear one of these tiny motivational tattoos?
(Expiry: Hopefully never!)