Clothing & Accessories From $11.98 Shipped @ Parasuco Canada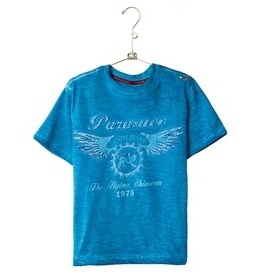 This weekend Parasuco Canada is offering free shipping on all orders, with no minimum purchase. This is the best time to check through the sale section and reap the benefits of great deals combined with free shipping. Actually, the sale items prices seem to start at $11.98 - so that is quite a steal if you ask me.
For starters, there are several boys' tee-shirts on sale for $11.98 each that would quickly make their way into my shopping cart. My favourite out of the 10 or so available has to be the WKP187T Kids Print T-Shirt With Embroidery for $11.98. I think the blue would look great on my son.
I think my boyfriend would like these Parasuco Low Rise / Tapered Jeans which are on sale from $110 down to $54.98. This Red Parasuco 9SZEKE T-Shirt for $19.98 down from $45 would go well with those jeans.
Ladies, I had to add these 8Spike Spiked Denim Shorts to my cart. They are on sale from $90 down to $19.98. I love the look of the embellishments, but I wonder how they would hold up? I am about to find out! There is quite a variety of women's jeans and jackets for super reasonable prices too. So don't miss out!
Right now Parasuco.com is offering free shipping on all orders big and small, so have at 'er!
(Expiry: 26th June 2016)