Buytopia Canada: $15 For a Naval Inspired Swimsuit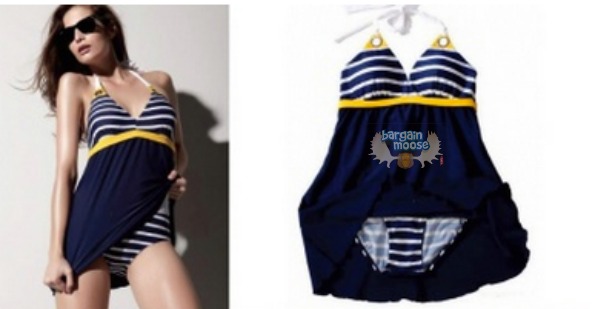 Normally, I wouldn't blog about a swimsuit on its own, but this one is a really good deal and looks great. I think I'm going to get one for myself! For only $15, regularly $89, you'll get this naval-inspired swimsuit from Buytopia.
I have a naval-type of swimsuit and I love everything about it. The navy colour is really flattering to most skin types, in contrast to black, which might look slimming, but can wash out the palest of skin (like mine). The stripes are in just the right place on this suit to flatter and the dress look makes the most queasy to wear a suit comfortable. I love how unique this suit looks with the dress over top of the suit.
Made from professional grade swimwear, it won't shrink or fade and has high quality density and elasticity so it will still be in a great shape for next year. The three-dimensional chest pad with full lining keeps everything in place and looking good.
You can get sizes M - XXL and the measurements are right on the site so you know you get the right size.
Taxes are included but shipping is $3.99. You can buy as many of these as you'd like.
(Expiry: 12th June 2013)