Butterfly Collection Canada Coupon: 40% Off Claudette Lingerie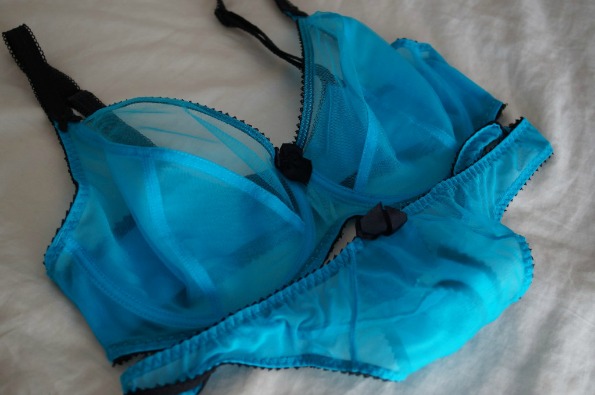 Butterfly Collection Canada has released a special coupon code for 40% off Claudette brand bras and underwear.
Click here to shop Claudette @ Butterfly Collection now
Coupon Code: CLAUDETTE40
Discount: 40% off Claudette
Expiry: 20th June 2014
Claudette is a fantastic mid-price range bra. Their Dessous line is a soft cup underwire bra made out of mesh with a complementary accent colour. Some of the colour combinations include bright blue with black accents, pink with light yellow accents, chocolate brown with pink accents, and orange with purple accents. The Dessous accommodates most breast shapes but works best for those who are either side heavy or bottom heavy. The fully adjustable straps work for both short torsos and long torsos. I own the Dessous Neon Turquoise Bra (pictured above) and the Dessous Sucre-Leopard , which were $59 each and are now on sale for $35.40 each. After coupon code, they come down to $21.24 each. Because these are already on sale, sizing is limited. I own the matching thong for the turquoise bra and the matching panty for the leopard. Because the underwear are so inexpensive, I recommend getting a matching set. I always enjoy wearing a matching lingerie set and at this price, there is no reason not to!
They no longer had any of the sale bras in my size, so I just ordered the Dessous Tomato Soup Bra by Claudette for $36.60 after coupon (was $61) and the matching Dessous Tomato Soup Bikini for $12 after coupon (was $20). I am so close to also buying the Dessous Godiva Bra because the chocolate brown and pink colour combo is so beautiful. There are several other colour combinations to choose from and almost all of them have matching underwear available.
If you want something a little more adventurous, the Fishnet Scoop Neck Pink by Claudette is a longer shaped teardrop cup in hot pink mesh with black velvet accents. It is stunning and a fantastic summer bra. Originally $81, it comes down to just $48.60 after coupon code. You can also buy the sexiest matching Fishnet Pink Pin Up Pant by Claudette for $23.40, originally $39. These undies come with detachable stocking clips for those nights you really want to go all out.
You will receive free shipping on orders of $39 or more. I have bought from Butterfly Collection a couple times already and have been more than pleased with their service. If you are unsure what size you are, be sure to sign up for a free bra size consultation over Skype.
For this and any future Butterfly Collection coupons, visit our forum.
Image Credit: Avigayil Morris