BodyBuilding.com Promo Code: 15% Off Plus Another 10% Off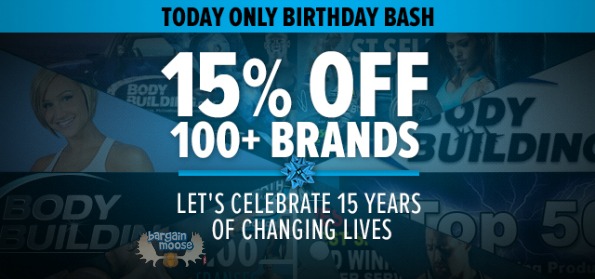 I found a really great deal at BodyBuilding.com, which is three deals in one! First, they are having a birthday bash with 15% off a number of products, then at checkout enter the promo code to get another 10% off on top. The best part is that you can get both the 15% off discount and the promo code discount on top of regular sale prices! The birthday bash sale says today only, but the ticker on site tells me I have 11 hours left to shop.
Click here to shop @ Ca.bodybuilding.com now
Coupon Code: LIFTHEAVY10
Discount: 10% off
Expiry: Unknown
I've used Bodybuilding.com's site a number of times to watch professional videos of exercises being done and to learn about diet and exercise. I think it is an amazing and informative site and a must-visit site for anyone looking to get into shape or get into better shape.
Although I've never ordered a product from them, there are quite a few that I am more than interested in to help with my performance at the gym.
If you are looking for a good protein powder, whey is usually the protein of choice for a number of reasons. I personally use a hemp-based protein powder because I wanted something plant-based, but if you ok with eating meat or dairy, whey is said to be the best. Plus with favours like chocolate peanut butter, like in this Dymatize Elite casin protein powder, you will want to get your shakes in! This one is actually heavily discounted, more than 15%, and is on sale for $29.85, from $52.63. The birthday bash discount also adds itself in cart, so that discount goes on top of that sale price and saves you another $4.48. Add the coupon on top and you'll see another $2.53 come off your total. This means that this product will cost you a total of $22.85, which is less than half the price.
Bodybuilding.com does ship from the U.S., so you might see duties or fees charged to you. Shipping depends on your purchase, but it was only $7 for that product getting to me.
Check for all of our Bodybuilding.com coupons in the forum.