Banana Republic: Men's Quilted Jacket Was $300 | Now $80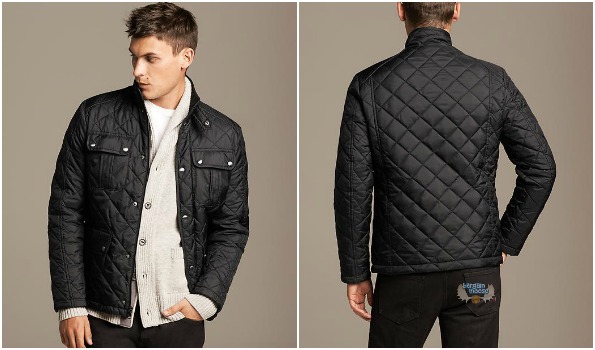 Have a got the deal for you if you are a man or a women seeking a jacket for a man. Get this very stylish quilted jacket from Banana Republic for only $89.55. Regularly $300, it is on sale for $175.99, but I can do even better than that for you. Use coupon code BRCSALE to get another 60% off! That brings your total down to just $90 and saves you $210!
While this jacket doesn't really look like it would last on a day like today in Ontario, reading over the reviews, apparently it is a pretty warm jacket. One reviewer even said it was as warm as his North Face jacket. Other reviewers didn't go quite that far, but said layered with a sweater, it could be good on a cold day with below freezing temperatures. Otherwise, you could wear it in the spring and fall with no issues.
I'm seriously considering getting this jacket for my husband who really doesn't have a stylish jacket. I know he likes to look good, even when he's just headed to Home Depot, but he has trouble shopping for himself. Could be the problem of having three kids always wanting to tag along, but that's why shopping online with great deals like this are perfect!
Like I said, I read the comments over and they give a few tips about the jacket:
I'm glad I chose this one. Perfect for the fall and layered with a sweater works for the cooler climates. The fit was good but I always take in the torso as I like all my clothes fitted.
and
Keep you warm without the bulk. Very comfortable and stylish!
I found it interesting that the comments against this jacket were about the styling, which to me, you can clearly see. I guess the issue is that by buying online, you don't see how it looks on you. But, looking at the model, I think it looks great! I laughed at the one guy who was sad it looked so good, his wife wanted her own.
Shipping will be free on this jacket as it exceeds the minimum purchase of $50, but it wouldn't hurt you to have a look around and see what other items you can use the 60% off coupon on. Sixty percent is quite a large amount to be able to apply to items already on sale and I bet you could truly clean up!
(Expiry: Unknown)