Back to School Shopping Event Printable Coupon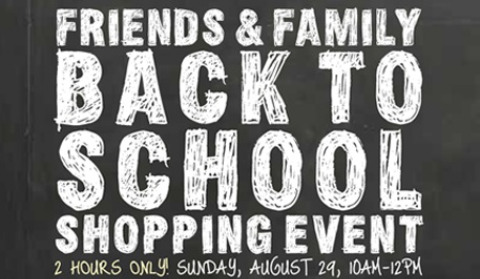 This is a massive shopping event put on by many stores! For only TWO HOURS, 10 am - 12 pm, on Sunday, August 29, 2010 you can enjoy 35% off regular priced merchadise and 20% off sale merchandise with coupon at the following list of stores:
I have linked most stores above to their store locator.
You will need to present the following coupon:
Notes:
For Urban Planet: this is also an ONLINE event from 10 am - 12 pm EST and they are also offering free shipping You don't seem to need a coupon code.
For Bluenotes: this is also an ONLINE event and coupon code provided above.
For the rest, we don't know if this is available online as well.
Fine Print:
Excluding Gift Cards & Loyalty Cards. Cannot be combined with any other discount promotion or special offer. Limited time offer. Coupon must be present to be eligible for the Friends & Family discount.
Enjoy the shopping trip! I am sure it will be completely insane in the stores!