Aeropostale Canada Spring Fling: 25% Discount!
Aeropostale Canada have sent me a lovely juicy coupon! It's worth a 25% discount off your total purchase of Aeropostale clothing in-store. The free coupon is only valid between the 24th and 27th of April 2009. I'm posting this up now to give you advance notice, and you can print it out, then I will bump the thread up closer to the date in question.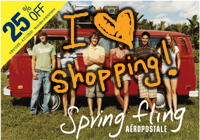 Unfortunately it excludes markdowns, but you still might be able to find some bargains. Note it in your diaries folks!
:)