Aeropostale: 50% Off Online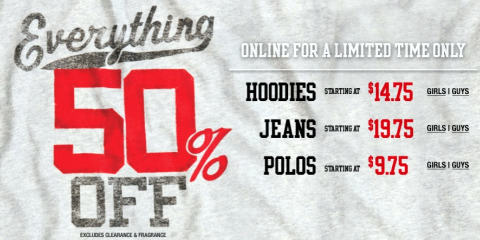 I seem to be posting about these guys a lot lately, but Aeropostale Canada is offering so many chances for fabulous discounts! Right now, online, you can get 50% off almost everything. That everything only excludes fragrances and clearance, 50% off the rest!
You don't often see online clothing stores do this.. 30% maybe, 40% rarely.. 50% pretty much never.. unless it is clearing out their sale stock. But this is on there regular stuff. So nice of them. Why can't they just keep their prices this low all the time? Like really. :-D
We have no idea when this ends... so shop soon!