8TILA Women's Top Was $75 | Now $25 + Free Shipping @ Parasuco Canada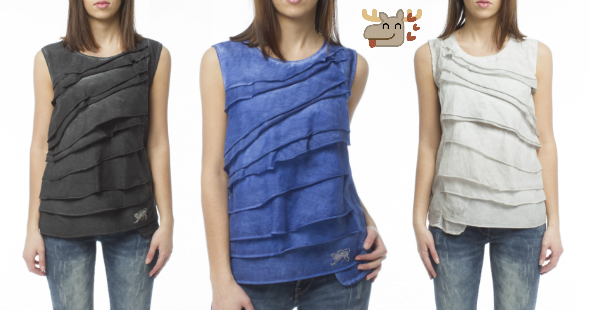 I love frilly tops! Especially when they are brand name and don't cost a fortune. This 8TILA top is a perfect example. Ladies, you can currently shop at Parasuco Canada and pay just $24.98 for this adorable top rather than the original price which was $75. You will get free shipping too, with no minimum purchase.
The 8TILA top for women looks like it can be worn casually, or dressed up. The choice is yours. I do, however, hope you already made the choice to snag this item. I mean, for $24.98 where else can you get a fancy, high quality, name brand top like this. I had actually been eyeing this top for quite some time, but as a frugal mom I wouldn't be caught dead spending $75 on a top for myself. Now I can look good in a brand new top, and feed great about the price too. Heck, I could now buy 3 for the price that one was originally.
This 8TILA top comes in three colours. Black, blue and grey. Right now all three colours have sizes small, medium and large still available. That means you can purchase a shirt for yourself, or if you know your best friend's size then perhaps you can snag one of these shirts as a Christmas gift for her. By ordering now, you will definitely have this top in time for Christmas. Whether you want to wear it yourself, or give it as a gift.
The top doesn't have much of a description on the Parasuco website, but I can guess that is would probably be a hand wash or delicate cycle top. I personally adore this top in the blue colour, but that may be because I already have too much black or grey clothing. The royal blue colour would look awesome with a pair of jeans and knee high boots for Christmas dinner. Throw on a crochet sweater and voila, you will look fabulous.
I also love that Parasuco Canada is offering free shipping with no minimum purchase for Thanksgiving weekend. Parasuco Canada even ships from within Canada so you won't have to worry about any duties or extra charges at your door. Normally Parasuco would offer free shipping on all orders over $150, or you would have to pay the $7.50 flat rate shipping cost so consider yourself lucky.
(Expiry: 12th October 2015)