(71% Off!) La Senza Canada: 10 Panties for $30.50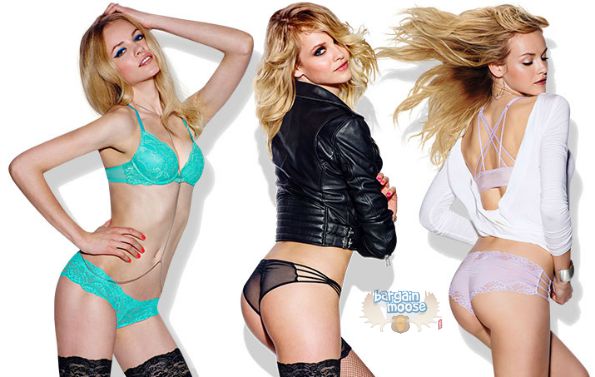 Good morning Bargainmoosers! I wanted to start your Saturday morning off right with a hot sale on panties. We all need them, but I know I don't want to pay a ton for them. Completely stock your panty drawer with La Senza's deal this weekend with 10 panties for $30.50. These panties are regularly priced from $7.50 to $10.50, but with this sale, you'll get them for $3.05 each. There are many different styles and colours so every lady will find the ten pairs that suit her.
When I am shopping a sale that includes a set amount of items for one price and there are varying regular prices, I always get the highest-value item first, because that really gives you the best savings.These ultra soft hipster panties are right up my alley (well not literally ;)). I'm not a thong girl any longer, but I have not subjected myself to granny panty status just yet either. I like a hipster panty for good coverage, but they can still look sexy while being practical. Did you see how many colours you can choose from for this panty? I'm loving the tangy sorbet and the limesicle. If you bought ten of these panties alone, your savings would be $74 from the regular price!
An alternative to the hipster panty is the cheeky. I recently got some cheeky panties and love them. They do give less coverage in the back, but they don't ride up, so they are comfortable, but give you that bit more of sex appeal. The remix cotton mini cheeky panty has a lace trim, but the cotton crotch (which Oprah tells me is so important in preventing yeast infections!). These are regularly $9.50.
If you don't want panty lines, but you want some great coverage, boy shorts are the way to go. I actually think boy shorts look quite sexy on many ladies. These seamless boyshort panties are regularly $8.50.
Of course you can mix and match or you can get 10 of your favourite style. I did notice that if you decided you wanted 11 or more panties, those would also be discounted down to $3.05, so its not like you have to get panties in groups of ten. Get at least ten and see your price dwindle.
When it comes to shipping, you can use the exclusive coupon code MOOSE75 to get free shipping when you get your total up to $75. Normally, La Senza only offers flat fee shipping of $9, which I think is quite high and otherwise unavoidable without our coupon. You'd definitely be smart to get that cart up to that minimum amount and not pay this fee. Once you apply the code, you won't see the free shipping option until you hit the next page, so don't fret!
(Expiry: 11th August 2015)