20% Off Sale Items, Free Shipping @ Roots Canada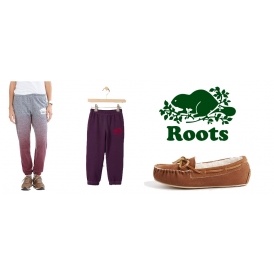 Roots Canada is an iconic Canadian brand with undeniable quality and superb style. Right now you can get 2o% off all sale items, plus free shipping on all orders! This is a rare offer and I will be shopping for myself and my kids this weekend without a doubt.
My family lives for our comfortable clothing and I buy at least one Roots sweatsuit for myself and for my kids every season. I've quite the collection of them at this point, some I've had in heavy rotation for several years and they are still as cosy as they day I brought them home. I also own three leather Roots Canada handbags and a wallet that I'll never be able to replace! Whenever I get the chance to score a deal, I pounce.
I was surfing the sale section today and here are a few items I'd recommend for yourself and for the littles:
As mentioned above, for a limited time only you will get free shipping on all orders at Roots Canada!
Tell us, what's your favourite Roots Canada item... I know we all have at least one!
(Expires: March 28 at 10am EST)