Peoples Jewellers: Save up to 50% on Almost Everything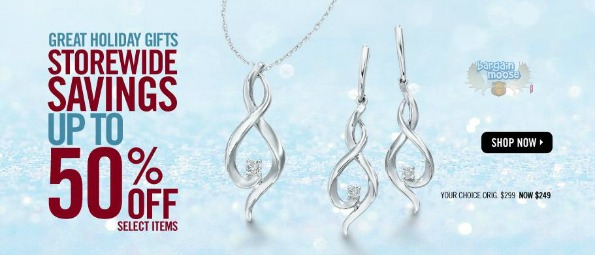 There are a ton of great promotions happening right now at Peoples Jewellers both online and in stores.  Save up to 50% on select items and get free shipping for a limited time only.
Here is a look at the deals happening right now:
Save up to 50% off store-wide (Exp Nov 8th)
Save 30% on Online Exclusives (Exp Nov 8th)
Save 20% on Personalized Jewelry (Exp Nov 12th)
Save up to 25% on Watches (Exp Nov 12th)
Free shipping on orders over $199 (Exp Nov 30th)
With Christmas coming up very fast, this is a great sale to take advantage of to get something beautiful for your significant other.  I can honestly say that you really can't go wrong buying a jewelry gift for a woman.  I can't think of one woman whom I know that wouldn't just love a nice piece of jewelry.  Sales like this will help you save money so that you are not spending an arm and a leg on a gift.
(Expiry: Various Dates)