Parents Canada: $29 Sterling Silver Name Necklace Or $100 Voucher Towards Any Product @ Namejewelryspot + $5 Promo Code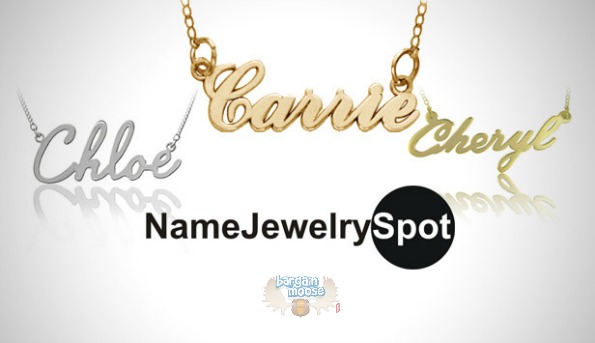 Parents Canada has vouchers for your choice of a sterling silver name necklace or $100 towards any products on Namejewelryspot.  You may purchase as many vouchers as you wish, but shipping and taxes are not included.  Only 1 voucher can be used per transaction and they will expire 3 months from date of purchase.  Vouchers cannot be combined with any other offers or promotions.  There is an additional Parents Canada promotional code for $5 off this weekend as well.
Click here to shop online @ ParentsCanada now
Coupon Code: THISWKND
Discount: $5 off
Expiry: 19th November 2012
These sterling silver name necklaces would make wonderful stocking stuffers for Christmas.  These are all a $100 value, but you can them for only $29 with voucher.  The necklace features any name from 3 to 10 letters, measures 1 to 1 ½ " depending on number of letters and chain length can be customized to 14", 16" or 18".
If you choose the $100 toward any other item at namejewelryspot, they have many different items.  The rings are quite nice in sterling silver or gold plated sterling silver and are $143.99, but you would only pay $43.99.  There is also beautiful earrings, bracelets, acrylic monograms, Amber and Larimar jewellery and more.  You can even purchase a little gift box of your choice for $4.99.
Shipping: $7.99
(Expiry: 25th November 2012)