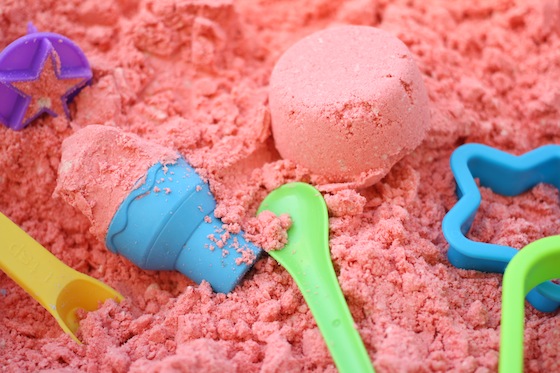 As it gets cooler outside you probably find yourself looking for ways to occupy the kiddos indoors. If that is the case, then boy do I have a solution for you. Have you heard of Moon Sand, Cloud Dough or Kinetic Sand? Yes, it is that expensive "mess-free" sand that seems to be ever-so-popular all the toy stores. Guess what? You can make your very own Moon Sand and avoid the marked up prices. This recipe is quick and easy, and I think both you and the kiddos will enjoy the results. Moon Sand is silky and mold-able and only takes a few ingredients to make. You probably already have all the ingredients within your household.
So here's what you're going to need to get started:
8 cups flour
1 cup oil (I used baby oil)
food colouring of your choice
Mix up your 8 cups of flour and 1 cup of oil really well in a large bowl. Once your mixture has reached a smooth consistency, you can add food colouring little bit by little bit until the Moon Sand has reached the colour you desire. You might want to make a few different colours for fun, who cares if they get mixed together. This mixture will cost you next to nothing to make, so even if you have to remake some colours in the future won't harm your wallet. I know I have started seriously watching my nickels and dimes so that I can get a few nice gifts for everyone this Christmas. You could add sparkles or glitter if you really want to. I am sure your little girl in your household would love that.
This stuff lasts weeks without drying out. So it is just as much fun as the store bought Moon Sand, but so much cheaper. Some parents might cringe at the thought of playing with any sort of sand indoors, but I have a sand table set up for my kiddo so that not much mess escapes. Whatever does end up on the floor just gets swept up or vacuumed, no problem. If you know people with kids then this might be an excellent little Christmas gift for the kiddos this year, but all in all I bet your very own children will adore this for hours on end.
Once you have this made, you will have to keep a close eye for deals on little construction machinery Hot Wheels or Play Doh building accessories. That's what you have Bargainmoose for!