Deal Ticker: $19 Vouchers For Ultra Thin Wireless Optical Mouse, Shipping & Taxes Included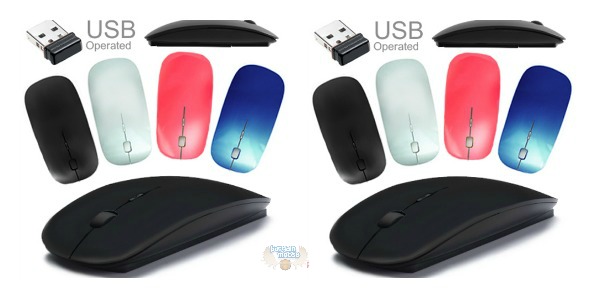 Deal Ticker has vouchers for an Ultra Thin wireless optical mouse for just $19.  Shipping and taxes are included in voucher and you may purchase as many as you wish for personal and gift use.  The voucher will not expire and this sale ends on December 19th 2012.
A wireless mouse is the way to go and these are even better with their thin size.  They are USB operated and take 2 AAA batteries (not included) and can operate at a 10 metre distance.  They are available in 4 colours: black, white, pink and blue.
These make an awesome gift, but I like to have at least 2 on hand.  A wireless mouse is so much easier, especially if you're constantly moving around with your laptop like I am.  Wires are a huge pain to relocate.  When your mouse is not in use, the transmitter fits neatly into the battery case so you won't lose it.
I have checked some other sites and found that for the most part, these items or equivalents to them range from $24.99 to $80, so I'm convinced that this is a great deal.
Shipping: Included.
(Expiry: 19th December 2012)