Cake Beauty: Free Gifts With Purchase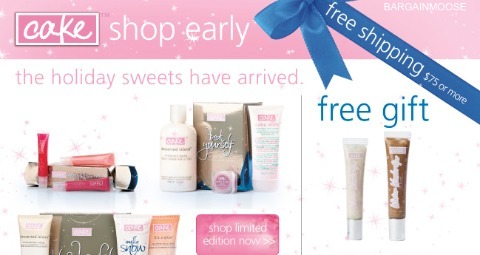 Cake Beauty has started their Holiday 'season' and with any purchase of $40 or more you will get 2 free holiday lip glosses: Snow Woman & Gingerbread Woman Lip Gloss. Their holiday collection has arrived and they are ready to be at your beck-and-call.
The holiday product I am most interested in is the Holiday Handful, I have been wanting to try the Desserted Island hand creme for a while and the Vanilla Snow sounds wonderful. I have the snow woman lip gloss they are giving away and it is very pleasant.
Now, as you know I try and give reviews of the companies/products we post and in that try and be fair and honest. Usually on here you find  mostly positive reviews. Well, the review you are about to read is not positive, but in no way reflects badly on the product, but on the customer service of Cake Beauty.
Basically I had a $10 off gift card code, used it on an order when they had a free shipping promotion, order went through, then they re-invoiced me adding on the shipping charges saying "Free shipping cannot be combined with any other promotion. Shipping charges have been added." I was upset that they re-billed my Mastercard without asking first if I would want to buy it if they added on the shipping charges. I couldn't find where it said that the two couldn't be combined and I had done this before on a different GC code with a free shipping promotion and it had worked. So I told them to cancel the order. Now my GC code no longer works. Not pleased with customer service.
Its sad, because I like their products. Their lemon chiffon lipgloss is the most amazing smelling lipgloss EVER!