BloomEx Discount Code: $10 Reduction With No Minimum Spend On Flowers!
If you're making an order from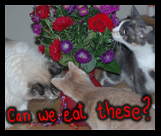 Where

: Online @ Bloomex.ca

Promotional Code

:

XMASVIP
What: $10 Discount
Expires: 8pm, 28th November 2008
Conditions: Delivery between 28th Nov – 23rd Dec 2008
So, you only have a few days left to place your order, but it could be a good excuse to make a flowers order for someone for Christmas. I for one wouldn't mind a huge bunch of red roses!
Thanks for the image Lord Trashman.