Up to 60% off Boxing Week Sale @ Toys R Us Canada
Santa's elves may be on vacation for the next little while, but Toys R Us Canada is just getting started with their Boxing Week Sale. Toys, games, baby gear and so much more are up to 60% off in-store and online for the next few days (until the very end of the year, to be exact), so you might want to get a move on!
In previous years, Toys R Us Canada has organized their Boxing Day Sale by discount into different sections. But this time around, everything is together in one department. The steepest discounts are mixed in there, so you might have to dig to find the best ones. But trust me, it's worth it!

To start, Grumblies are marked down to some of the lowest prices we've ever seen in Canada. The most popular, Scorch, (who's the fire one, in case you're wondering), is down to just $12.47 from $24.99.
Even Trunki suitcases are on sale! There are at least three different models marked down, including the Bernard Bee Ride-On Suitcase for just $41.97 (instead of the usual $69.99). So if you're planning a trip with the entire family, you might want to pick some up for the kids before they sell out.
These sales all run until Dec. 31. Remember that many orders over $49 ship free, and there's usually the option to ship items to a Toys R Us location for free. When you're ready, you just go pick 'em up.
Sign up for our newsletter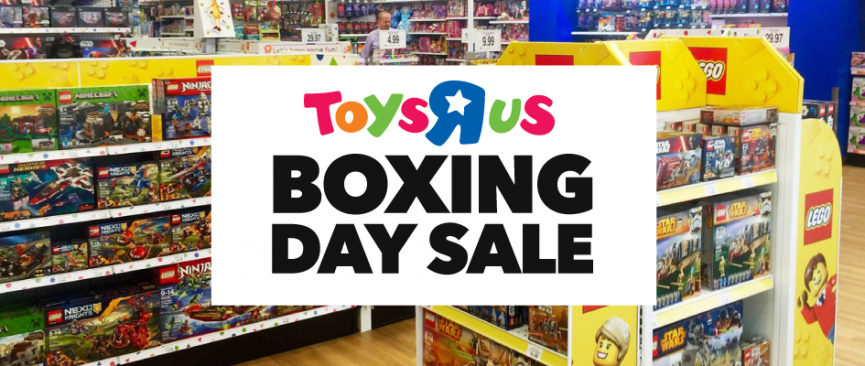 Toys R Us Boxing Day Sale 2017
I know. We have just purchased so many toys in the last couple of months preparing for Christmas, that one of the last things on our mind for Boxing Day is more toys! My kid has a birthday in February though, and quite honestly these Boxing Day prices at Toys R Us are some of the best that I have seen! Boxing Day starts on December 25th at Toys R Us and runs through December 31st.
Last year,, all clearance products were buy 1, get 1 half-off. So we're expecting more of the same for 2017! Keep in mind, only the toy of equal or lesser value will be discounted. You can always tell which items are clearance when the price ends in $0.08.
Here are of our top Boxing Day offers from 2016 at Toys R Us Canada:
up to 40% off Star Wars Role-Play
up to 40% off select LEGO building sets
40% off all $14.99 Huggies Jumbo Diapers and Boxed Wipes
up to 50% off Marvel figures
$10 each for Frozen dresses
up to 30% off select Barbie
up to 30% off RC Vehicles and Robots
Xbox One 500 GB Gears of War & Halo 4 $329.97
Playstation 4 500 GB Uncharted 4 Bundle $329.97

40% off Hasbro Board Games ($10.77 each)
ToysRUs.ca offers free shipping on orders over $49.