The Body Shop Canada Boxing Day Sale: Up To 50% Off
26 December 2014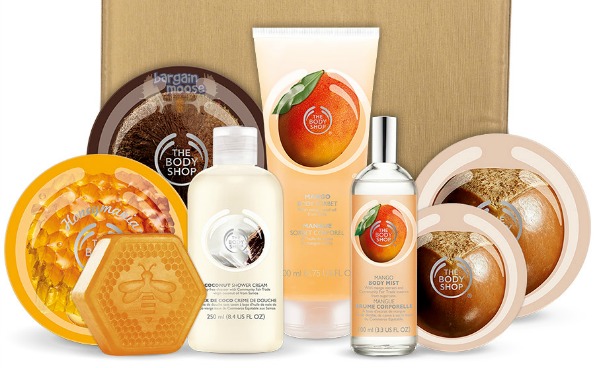 The Body Shop has their Boxing Day sale on in full swing and they've got 50% off a number of items. Another item of note is that they've got the Ultimate Care Body Care gift set on for only $45 when you spend $30 and it is a $128 value.
I really like the ultimate care body care set because it really is something you'll buy for just you. Now that Christmas is over and things might be settling down at home, you need to take care of you. If you are a mom like me, you've probably spent the entire month of December thinking about everyone else and not really about yourself. You're stressed, tired and even overwhelmed. Buying something like this is your way of pampering yourself just a little. Give yourself time to take a long shower or a hot bath then slather yourself with the delicious creams included. I rarely take the time to moisturize my skin or pamper myself with beauty products and it would be a fantastic gift to myself to spend the day giving myself a facial, a hair treatment, take a long bath and scrub my skin and do my nails.
The care set includes:
Mango body sorbet
Mango body mist
Coconut body butter
Coconut shower cream
Honeymania body butter
Honeymania soap
Shea body butter
Shea body scrub
Fabric box
To get yourself up to that $30 total, you could shop the 50% off sales. My pick would be the chocomania lines and I'd pick up a body butter for $10 (was $20), body scrub for $10 (was $20), beauty oil for $7.50 (was $15) and the lip butter for $3 (was $6). Because I've spent $30, I'd get that kit for $45, bringing my total spend up to $75, which means I'll get free shipping. Even better, if you didn't want to spend that much, The Body Shop has lowered their free shipping threshold down to $50, which saves you $5, which is what you'd normally pay on a $50 spend.
(Expiry: Unknown)