Save up to 50% Off Pet Necessities and Accessories @ PetSmart Canada Boxing Day Sale (26-28 Dec)
19 December 2014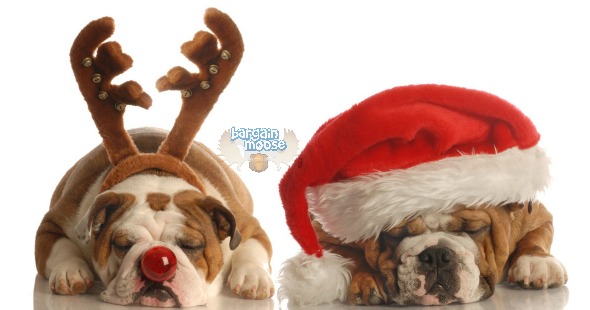 The PetSmart Boxing Day Weekend Flyer has been released! The flyer is right at your fingertips to view all of the sales available at PetSmart Canada during their Boxing Day Event. The PetSmart Boxing Day Weekend Sale will run from the 26th of December through to the 28th of December 2014. The store doors will open at 7 AM on Boxing Day.
During this PetSmart Boxing Day Weekend Sale, you will save up to 50% off select necessities and accessories for your fur babies. If you find yourself receiving or gifting a puppy or kitten this Christmas, this will be your one-stop-shop to get everything you need. These offers are available in stores or to be shipped to a store. Picking up your purchase at your local store is free. Although PetSmart.ca no longer allows shipping to your home, they have replaced it with a shipping to store feature which is now free. Do you remember how expensive PetSmart's shipping used to be?
On Boxing Day (26th December 2014) you can shop at PetSmart between 7-9AM and save more when you spend more as well. If you spend $50, you will get $10 off your purchase. If you spend $100, you will get $30 off  your purchase. This is valid for two hours only on this day.
If you have cats at home, you know that the type of litter you use makes a world of difference. If you have more than one cat you have probably heard of Maxx Multi Cat which works wonders for keeping odours down. I have one cat so I use "Yesterdays News" as it is pretty cost efficient and doesn't track through my house. If you use Maxx, you can get it for only $4.50 during the Pet Smart Boxing Day sale, which is 50% off the regular price. If you don't like cleaning the cat litter box at all, you could always purchase the Nature's Miracle self-cleaning single cat automatic litter pan for $134.99 which is $20 off the previous cost.
I also dread hearing the noise of the cat climbing up the side of my couch. I was going to declaw her until I watched a YouTube video about the process, and I changed my mind. Instead of that route, I purchased her  a "Cat Tree", which apparently can be pretty pricey. During this Pet Smart Boxing Day sale you can save 30% off select Grreat Choice and Whisker City Cat Towers. My cat also uses hers to get away from the pesky dog. Some good cat toys can preoccupy them from scratching everything too, which is great because the Toys R Us Cat Toys are all on sale for buy 2 get 1 free.
Dogs get great discounts too. You can save 50% off a comfortable new pet bed for your pooch. These beds range in price from $10.99 - $43.99 each after the discounts have been applied. They will include the Grreat Choice and Top Paw dog beds as pictured on the front page of the flyer and more. If you didn't spoil your dog with enough toys for Christmas, you can save up to 50% off select Toys R Us Pets Dog Toys too. These toys will cost you between $2.95 and $20.99 each depending on the size and type.
Something is a little fishy.. How about some savings on aquariums and other fish products? During the PetSmart Boxing Day sale you can save up to 40% off select aquariums. These vary in sizes from 0.5 gallons all the way up to 55 gallons.
When it comes to BOGO offers, PetSmart has quite a few during their Boxing Day sale:
Buy one get one free: Hill's Science Diet dog treats, Hill's Science Diet dog food, Hill's Science diet cat food, all Iams dog or cat food, all Eukanuba or Innova dog food.
Buy two get one free: Hill's Ideal Balance dog food cans
Buy 8 Caesar dog food 100g tubs ($0.89 each) and get 1 Caesar dog treat 150g pack ($2.99) for free
You also won't want to miss any of their clearance offers. The PetSmart Boxing Day flyer states that you can save up to 75% off clearance holiday dog and cat products like toys, treats, apparel, and more.
Shop at PetSmart.ca to enjoy their Boxing Day Weekend sales online and you can save an additional 10% off of your purchase when you opt for in-store pickup. Your discount will max at $100 and will appear in your cart.
[gallery link="file" columns="2" ids="200552,200551,200550,200549"]
For more great Boxing Day deals you can check out our forums.
(Expiry: 28th December 2014)