NCIX Boxing Day Canada Sales & Flyers 2017
Updated: Dec 15, 2017
NCIX Canada Boxing Day Deals 2017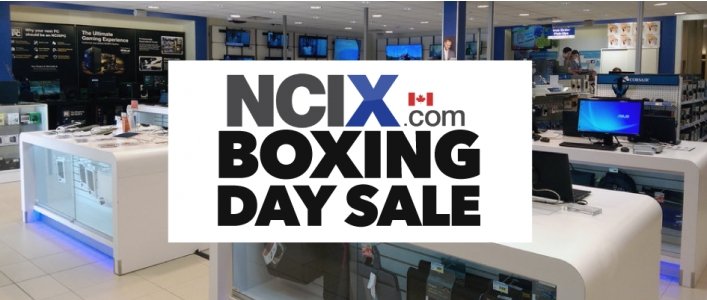 The NCIX Boxing Day flyer is almost here! The popular Canadian electronics and computer retailer always hosts some of the best deals in electronics and we're going to announce them right here as soon as they go live!
Again, they haven't made any formal announcements yet, but we're predicting that the NCIX Boxing Day sale will start on December 24th at 4.30PM PST. Our top picks from last year's sale included computers and big-screen TVs and though we can't write about every single item in this blog post, here are a few of the highlights:
LG 47" 1080p 120Hz Smart LED TV (reg. $698) was marked down to $548
Logitech Harmony Ultimate One Universal Remote Control (reg. $248) was marked down to $148
Sennheiser HD558 Headphones (reg. $139.99) was marked down to $140
Logitech G502 Proteus Core Gaming Mouse (reg. $79.99) was marked down to $59.99
For shipping from NCIX, it depends on what you are buying. Some items have free shipping, some don't, but you can see this on the individual product pages once the Boxing Day sales start. Also, there is supposed to be free shipping on orders over $50!
There were tons more items in the NCIX Boxing Sale last year, so check back in soon for updates because we will post all the best deals right here.