Lush Canada Boxing Day Canada Sales & Flyers 2018
Updated: Dec 26, 2017
BOGO 50% off Christmas Gifts @ LUSH Canada
Shoot for the Stars Bath BombThis is a sale I definitely didn't expect, and it almost feels a little like a belated Christmas present! While supplies last, select LUSH Canada Christmas gifts and sets are on for buy one, get one 50% off!
LUSH products almost never go on sale, so this is definitely one of those deals you won't want to pass up! It also means that it'll probably be pretty popular, so I'd try to shop it ASAP, since quantities are limited, and most items are guaranteed to sell out.
Everything from individual bath bombs to wrapped gift sets are on sale, but I put together a quick list of some of the more popular items you might want to grab right away:
You need to add at least two qualifying items to your cart for the BOGO deal to apply. Each customer is limited to 40 total items, and shipping costs vary based on the weight of your order.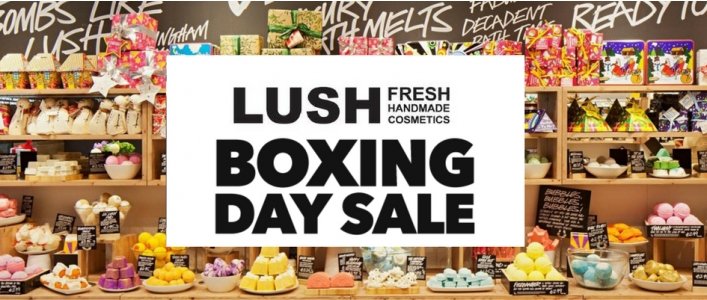 Lush'd Boxing Day Sale is one that I used to wait for every year: Lush's Buy One Get One Free sale! It is the ONLY sale that Lush Canada has annually. If you miss this sale, you are out of luck for an entire year.
I remember when this sale used to crash their servers because so many customers were trying to load their carts with goodies. Boxing Day is the perfect time of year for this sale as you get to enjoy all the amazing Christmas items they make only this time of year.
Here are our top picks from last year's sale:
Snowcake - This gorgeous creamy soap smells like marzipan, a beloved German confection that is popular around the holidays. With my husband, it is always popular as chocolate-coated marzipan is one of his favourite treats. A 100g bar retails for $7.95, but you can buy two for that price.
Drummers Drumming - I have never tried this bath bubble bar but it looks hilarious. The bar is in the shape of a drum with the two little bell poms for drumming away. This is a cute bath bar and a delightful scent: bergamot and strawberry. The bubble bar costs $9.95, so pick up two for that price.
First Snow - You can even buy wrapped bundles of Lush products and get another bundle for free. The First Snow bundle includes:
Reindeer Rock Soap
Baked Alaska Soap
Snow Fairy Sparkle Massage Bar
Snow Fairy Shower Gel
First Snow Dusting Powder
Snowman FUN
Bubble Gum Lip Scrup
The bundle is a bit pricey at $64.95, but you can buy two for that price during the Boxing Day sale.
Items sell out very quickly so purchase ASAP once the sale hits. You can mix and match items so you do not need two of the same thing. Essentially, every second product (in order of price) will be free in your cart.
If you are in need of a Lush Canada store, pop in to see what they have left in the sale. Shipping starts at $6 and you can see the shipping tier here as it is based on weight.